Sale!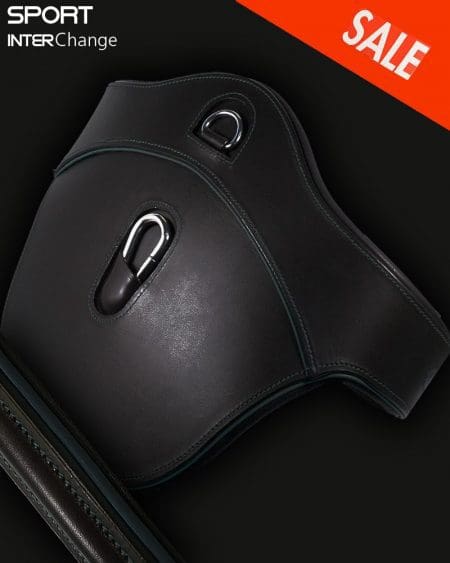 Sport Interchange Black Leather 135cm Jumping Stud Girth
price from:
Black Leather 135cm jumping stud girth with black piping designed for Show Jumping, colour co-ordinate your team or club colours and create a unique identity and look. Match this product with other Sport Interchange Products in the range with our bespoke configurator.
Premium Top Leather
Soft Neoprene Padding
Black with Black Piping – LARGE PLATE
Training Aid Attachments
Shop display, hence price
Martingale Attachment
Elasticated Straps (all)
Shaped for Comfort
135cm LARGE PLATE
Please see below for important information about ordering this item
Only 1 left in stock
Size Guide
No Size Guide available for this product
Delivery & Returns
This product is: In Stock
Delivery Timescales
This product is In Stock, this means we hold the product directly in our warehouse and can ship it immediately. Therefore, shipping timescales from us, to you, are presently:
Delivery timescales can vary depending on your location, especially at busy times such as the holiday season
Returns/Exchanges
All in stock items can be returned to us in 14 days for any reason. In addition, our two-year warranty ensures you are making a wise and secure investment. Choose excellence and join the ranks of satisfied customers, making us the go-to source for top-notch equestrian gear. Take a bold step towards ensuring the utmost satisfaction of you and your horse by ordering today.
Finance
To help you finance your dream product, we've teamed up with paypal to offer you free credit on your purchase. All you need to do, to activate this is join up for a personal PayPal account, if you dont have one already. You can then access:-
UK - 3 Interest Free Payments
USA - 4 Interest Free Payments
You will be able to choose this option when checking out, simply select paypal as your payment method. Terms & Conditions apply.
Reviews (0)
Description
Description
This Black Leather 135cm jumping stud girth has been designed to provide protection to the chest whilst allowing freedom for the horse to move through the leg. Made entirely of leather, with a fully breathable neoprene inner filling, that is much softer than normal padding, and therefore much more flexible to the touch. Each girth comes with 3 training aid rings to aid with ease of attaching equipment. Completely Bespoke made to order to your specific colour requirements. The girth is elasticated both ends which is proven to be much kinder to the horse than those that are only elasticated on one side. The buckles are roller buckles to aid fastening. The leather used has an abrasion resistant coating to keep it looking pristine. 135cm LARGE Strike Plate.