What is Dressage Rider Training?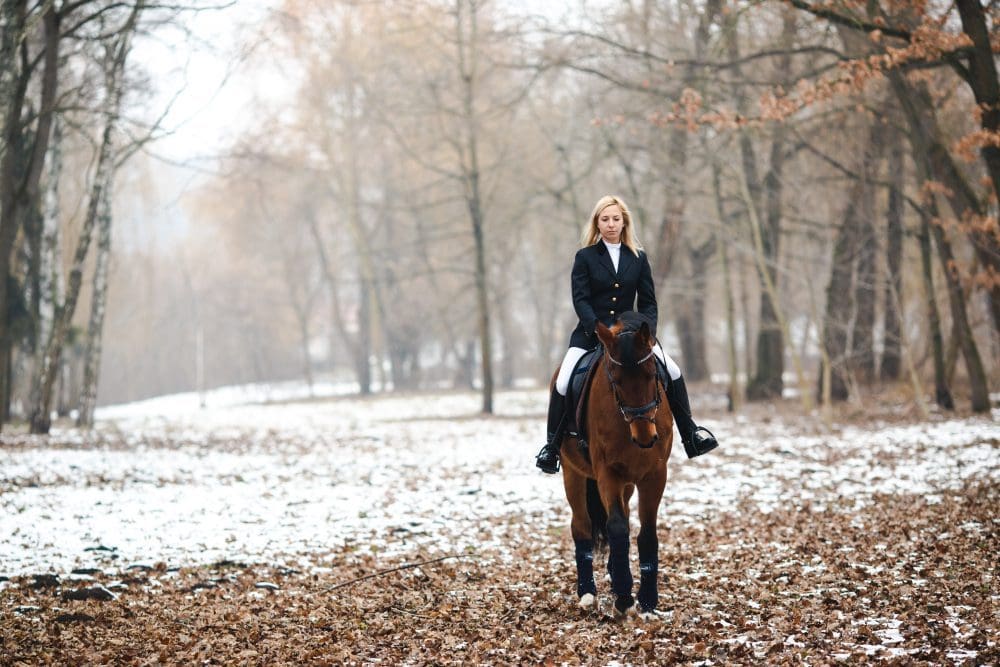 Training for the rider is just as important as training for the horse. This article looks at the different rider training programs.
Introduction
There are hundreds of pages on the internet discussing the best way to train your dressage horse, from groundwork and lunging to saddle training and nutritional needs, but what about dressage rider training? After all, dressage is supposed to be a two-way partnership and more often than not it can be the rider who is preventing the horse from progressing.
Investing in dressage rider training is just as important as training for dressage. As your horse becomes fitter it takes more stamina and strength from you the rider to be able to control your horse. This article takes a look at what dressage rider training is and how you can find suitable dressage rider training programs.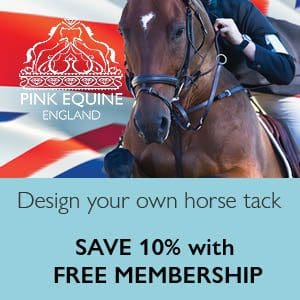 What is dressage rider training?
If you are serious about competing in any equestrian discipline then like any athlete you must be fit and healthy and tailor training to your specific requirements. Just like a runner may concentrate on core issues such as strength and stamina, you must decide as a rider what areas of training would be most beneficial. Talk to top International riders and they will all tell you how essential fitness is to successful riding.
It has been well-established that riding in itself is an excellent form of exercise, in fact, studies have shown that a 45-minute walk trot and canter ride burns up to 200  calories, not to mention the benefits to your muscles and cardiovascular system. However, you shouldn't just rely on riding to provide all your fitness needs. Dressage rider training is about understanding your specific fitness requirements and incorporating them into a fitness plan. If you don't participate in the right type of exercise you may find horse riding more of a challenge.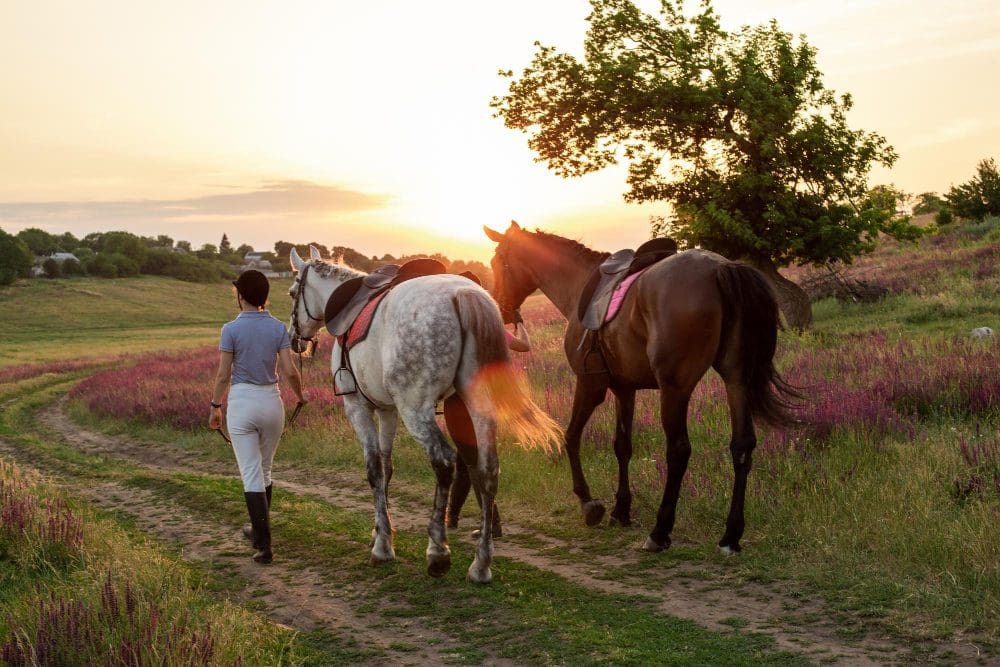 Let's take a look at important areas of rider fitness that can be incorporated into a dressage rider training plan.
Core Strength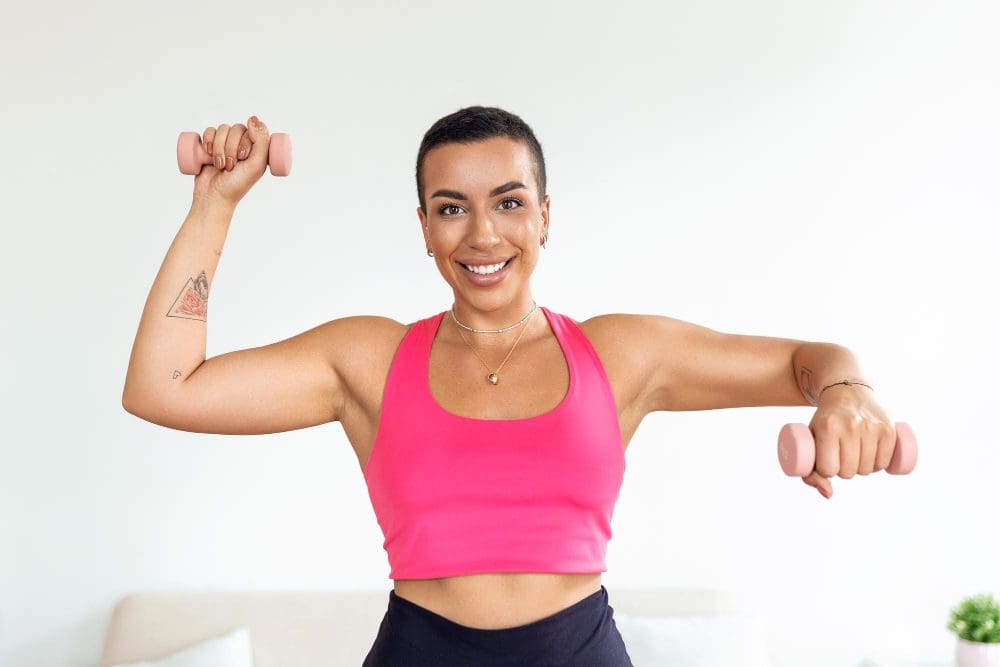 Riding, places specific demands on certain muscle groups. Horses are controlled via the reins and through the buttocks and thighs and this intense muscle engagement means you will need strength in those areas including your arms and biceps to continue being able to control your horse.
Strengthening the muscles in the upper body, seat, and thigh area will help with your riding. You don't want to start lifting heavy weights, as your goal is not to look like a bodybuilder! The goal here is to build strong lean muscles to assist with horse control.
You don't need to work out at a gym, many exercises such as push-ups, lunges, sit-ups, pull-ups, and squats can be performed at home. Lighter weights can also be used.
Endurance and Stamina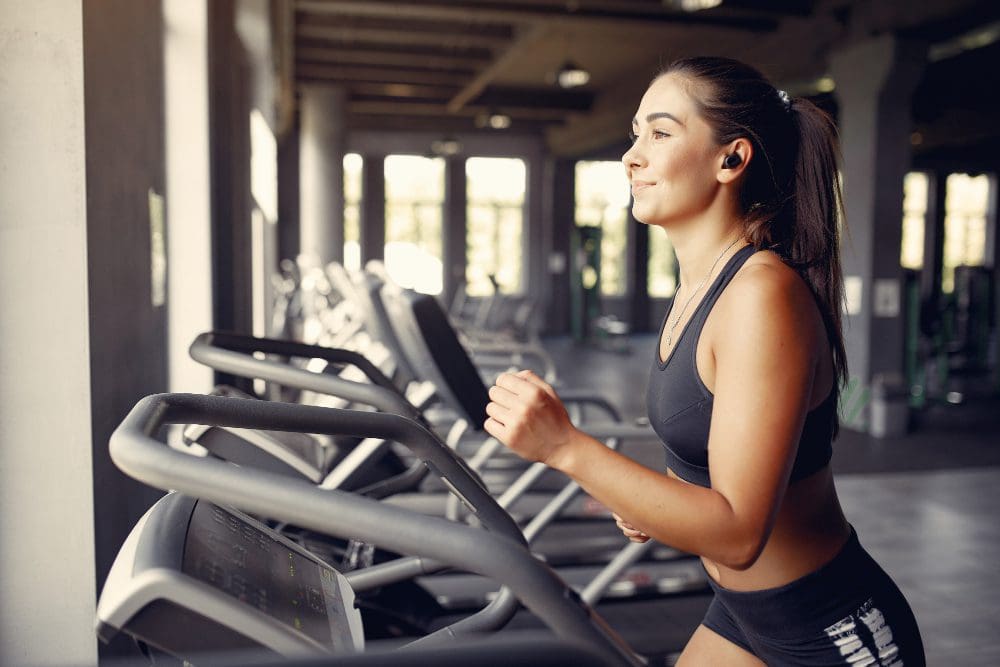 Cardiovascular exercise is important to overall rider fitness. Aerobic exercise increases your heart and lung capacity, which delivers more oxygen to your muscles. This type of exercise will help with endurance and stamina and can be accomplished through running (road or on a treadmill) cycling (some top riders swear by spin classes) the use of a cross trainer, interval training, (physical training consisting of alternating periods of high- and low-intensity activity) and circuit training.
Balance and Suppleness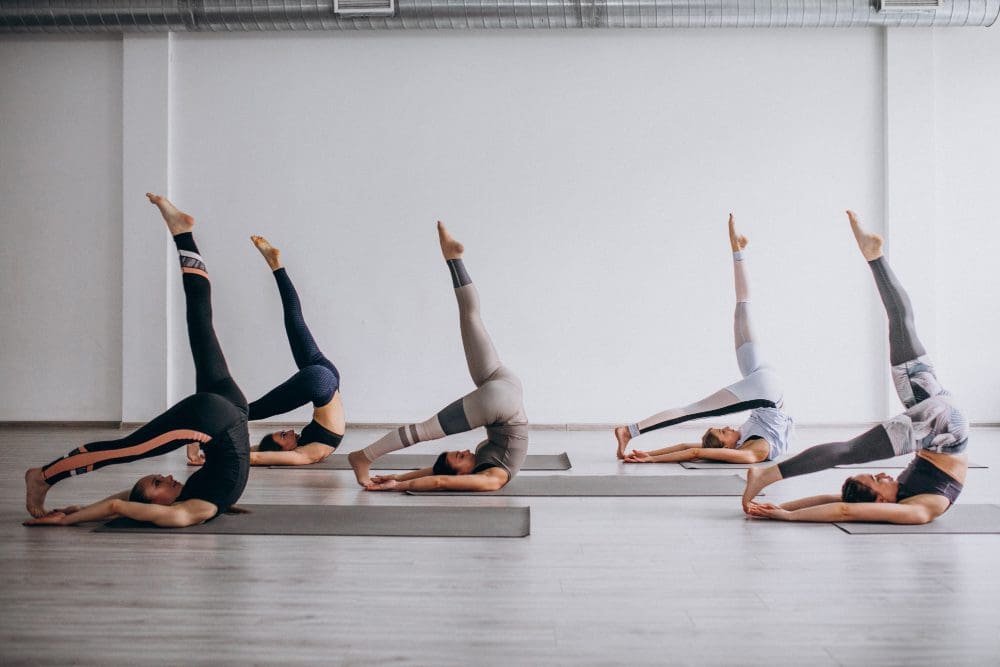 For a horse rider, balance and suppleness are key elements. Maintaining balance on a moving horse without falling off is essential. You need to train your body to move with the horse's movements sustaining vertical and horizontal balance and rhythm in all gaits.  It stands to reason that you will not have control of your horse's balance unless you have control over your own.
Similarly with suppleness, if your body is not supple, you will find it hard to maintain the right balance. Regular stretching is crucial as muscles that aren't stretched properly are at risk of strain or damage. Pilates and Yoga classes are two great ways to improve your balance and suppleness and are favored by many professional Equestrians. Exercise ball work is another good way of improving balance and regular stretching classes will reduce the number of ligament and muscle injuries.
Health and Nutrition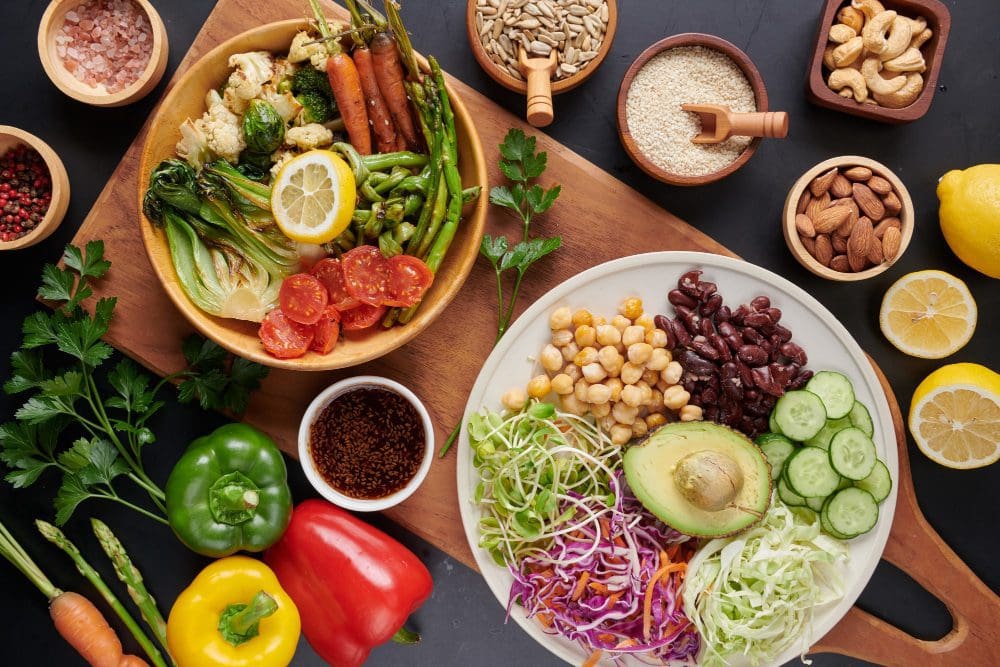 It's a bit of a taboo subject, but nonetheless important to point out, that riders who control their bodyweight will make life easier for the horse as well as themselves. Research has shown that horses can comfortably carry up to 20% of their ideal body weight and maintaining this ratio is crucial as any extra weight will prevent the horse from moving as freely as it would normally.
Therefore eating the right balance of foods and considering the nutritional values of what you eat should also form part of your dressage rider fitness program.
Mental Health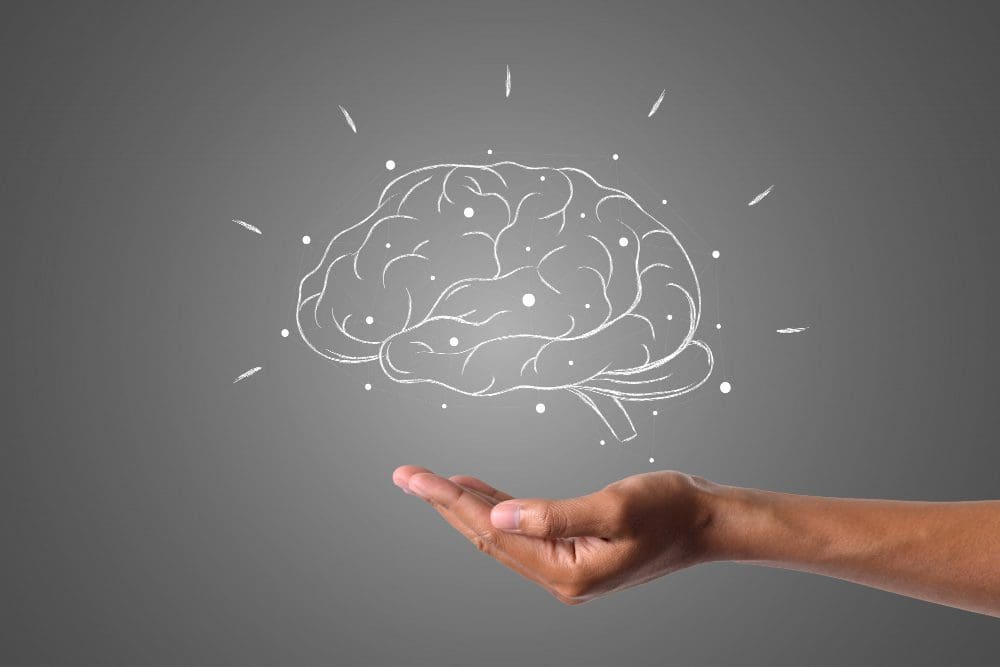 Finally mental health. For anyone competing in any type of sporting activity, a positive mental attitude can definitely give you an edge. Both positive and negative emotions can affect cognitive function (the ability to think clearly) and may also affect your energy levels and even physical performance. If this is a problem for you there are lots of online programs and exercises that you can use to change your thinking into a positive one.
What are the next steps?
We have looked at the type of activities that could be incorporated into a rider training program and indeed this is something that you could put together yourself. However, if you don't have the time or are not really sure which training elements you should concentrate on, there are various online programs available to assist.
There are lots of self-appointed fitness experts out there with a whole myriad of online programs covering all types of pursuits, so it probably makes sense to find a program that is dedicated to rider fitness training. Here is our guide to the top ten online horse rider fitness programs.
Top Ten Online dressage rider fitness programs.
1. Dressurfit
What do they offer?
DressurFit® is a 12-week program specifically designed for riders with individual fitness tests and personalised corrective exercises to optimise their training at home. Dressurfit says you can achieve this with only three 15-20 minute workouts per week.
What is the cost?
The cost is a one-off payment of 180€ EURO for six months of access to the program. This can be extended after six months for only 12€ EURO per month.
What do you get for your money?
You receive a 12-week program, and access to the entire Dressurfit online gym, where you can choose workouts and yoga videos and put together your own training plan. In addition, you complete an online personal fitness test every four weeks and based on the results will receive two extra corrective exercises to follow. Dressurfit says this can all be achieved with only 3 20-minute workouts per week. After six months you can extend the program for as long as you require.
Expertise
This program has been put together by Marcel Andra a professional sports scientist and performance fitness coach, who has supervised the Aubenhausen team for many years, together with Benjamin Werndl and Jessica von Bredow-Werndl, the brother-sister winning partnership in dressage. Winners of the World-Cup in Aachen, as well as team Gold at the World Equestrian Games.
For more information visit Dressurfit

2. Ridercise
What do they offer?
Ridercise is an online workout subscription-based service that offers two levels of exercise in their "Signature Series", Foundation and Intermediate. Both courses are six weeks in length and increase in duration and intensity over the six-week period. Ridercise recommends starting with the Foundation course before moving on to the Intermediate. Each workout has been designed to specifically target the muscles that riders use in the saddle.
What is the cost?
There are two options Best Value costs £95.99 per year, billed yearly until cancelled and the Flexible Option costs £9.99 per month, billed monthly until cancelled. Chargeable personal on-demand support is also available. Both subscriptions come with a seven-day free trial.
What do you get for your money?
Membership gives you access to over 50 Workouts that are specifically tailored to horse riders. Access is available as long as you are a member. As a member personal on-demand support is also available, although there is an additional charge for this service.
Expertise
Every workout is led by Clare, whose combined knowledge and hands-on experience make her one of the most qualified Equestrian Fitness Experts in the UK. She has extensive experience as a fitness professional with over 18 years in the industry and experience in advanced anatomy and physiology knowledge as a Soft Tissue Therapist. Clare has owned and trained horses for over 20 years and has worked with riders around the world.
For more information visit Ridercise.
3. Dressage Rider Training
What do they offer?
A 12-week program that only opens up a couple of times a year, which concentrates on 6 elements of suppleness, stability, stamina, mindset, rider fitness, and core strength.
What is the cost?
£197 for the 12-week program, although access to the website is provided for six months after which you can download the workout videos to keep.
What do you get for your money?
A weekly email, detailing everything you need to accomplish that week, including links to the workouts as well as additional resources. There are 3 workouts per week and each workout takes about 20 minutes. Workouts are not live, so you can perform them when convenient. Free support and guidance with Nicola and a community of past and current participants both on the website and private Facebook Group. There is also lots of free information available including a free guide.
Expertise
Nicola Smith has a passion for Dressage and created the dressage rider training program that specializes in core and strength training for dressage riders. Nicola has been a Personal Trainer, Nutrition and Lifestyle coach since 200. As well as qualifying as a Bachelor of Physical education, majoring in Sports Science, she is certified by the Corrective Holistic Exercise Kinesiology (C.H.E.K) Institute as a Holistic Nutrition and Lifestyle Coach level 2 and with the C.H.E.K Institute in relation to program design, scientific core and back training as well as a Functional Diagnostic Nutrition Practitioner.
For more information visit Dressage Rider Training.
4. Applied Posture Riding
What do they offer?
A 12-Month Applied Posture Riding Membership Program (now for 24 months), that will teach you about riding posture and the skills required to perfect it. The program will teach you how to test, train and transfer your core function from the floor to the saddle.
What is the cost?
The cost of the 12-month program is $500 but has been extended to 24 months.
What do you get for your money?
You will have access to all the Applied Posture Riding step-by-step videos and bonus videos as well as the Applied Posture Riding manual, a downloadable 67,000-word E-Book "Applied Posture Riding, the fundamentals of riding" This document has all the instructions in written and colour picture form. You follow the chapters in the book and view the videos in each lesson.
Expertise
Annette Willson is the Australian author of "Applied Posture Riding", an Elite event rider, who has a Masters's Degree in Physiotherapy, has worked as a Physiotherapist for 35 years, and also teaches Pilates. Annette rides and trains her own horses and is a horse riding instructor.
For more information visit Applied Posture Riding
5. Amalia Dempsey 8 Week Rider Specific Exercise Program
What do they offer?
An 8-Week Rider Specific Exercise Program to become a more Symmetrical, Balanced, Fit, Coordinated & Effortless Looking Rider. Open to Equestrian Riders Of all levels, ages, experience, and fitness levels. The program can be completed in the comfort of your own home with important tips on form & technique embedded into the video workouts.
What is the cost?
The cost of the 8-week course is 3 monthly instalments of $69 AUD (approx £40) or save $50 AUD when you pay the full price of $157 AUD (approx £90), with continued access to the program after the 8 weeks is completed. Prices are to increase in 2023. Full refund available within 14 days.
What do you get for your money?
Over 300 rider-specific workout videos with Amalia, accessible via your desktop or mobile app, incorporating weekly 20 x 30 min rider-specific workouts, 1 x 20 min stretch session, and 1 x easy-to-implement mounted rider exercise.
Expertise
Amalia Dempsey B.Hlth.Sci, M.Physio is a fully qualified physiotherapist and has over 7 years experience of working in musculoskeletal private practice. Her qualifications and achievements include:
Australian Physiotherapy Association Member
Australian Health Practitioner Regulation Agency registration
Bachelor of Health Science, Flinders University, 2012
Master of Physiotherapy, Flinders University 2014
2014 Academic Excellence Prize for the highest GPA Masters of Physiotherapy
Published in the Journal of Clinical Neurophysiology 2015
DMA Clinical Pilates Level 1 Qualified
Additional study in APPI Pilates Matwork
She is a lifelong horse lover and multi-discipline, multi-passionate horse rider who loves seeing people succeed with their horses!
For more information visit Amalia Dempsey
6. Equestrian Fitness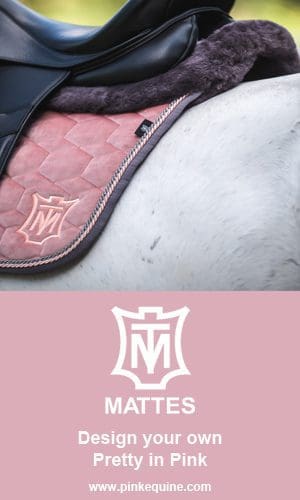 What do they offer?
In addition to personal training, tailored training classes, and workshops, Nicola offers online training which consists of  2 weekly classes just 20-30 minutes long and an extra Workout Wednesday 5-10 minutes long. Equestrian Fitness focuses on unlocking muscle spasms, tightness, and underactive muscles whilst improving strength and suppleness overall.
Equestrian Fitness uses elements of Intrinsic Biomechanics, Pilates, Sports Yoga, Injury Rehabilitation and Exercise to help you unlock your potential and communicate more effectively with your horse whilst riding. All this without spending hours in the gym!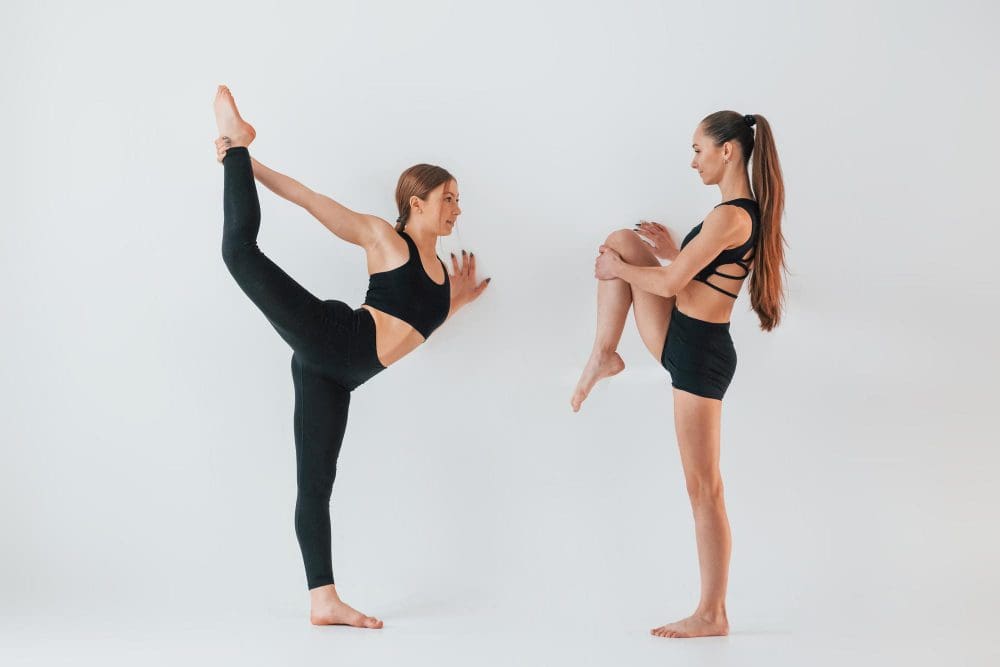 What is the cost?
The cost is the amazingly low price of £5 per month.
What do you get for your money?
The twice-weekly video sessions are available in the Private Facebook group and also delivered straight to your inbox on Mondays, Wednesdays, and Fridays and can be viewed whenever is convenient to you.
Expertise
Nicola has ridden pretty much her whole life and with her own issues uses the system herself. She is a level 3 Personal Trainer, sports masseur, and FA sports injury rehabilitation foundation coach. A Level 4 Strength and Conditioning Coach and in addition she is a qualified Biomechanics Trainer and Equipilates ™ Instructor.
For more information visit Equestrian Fitness
7. Rider Lite
What do they offer?
Offers rider clinic days, one-to-one face-to-face and one-to-one virtual online sessions as well as online group sessions, aimed specifically for the rider aiming to improve your core strength, suppleness, and reactiveness.
What is the cost?
A rider assessment is £75 for 75 minutes and rider online balance group sessions are £5 for 60 minutes.
What do you get for your money?
A virtual online class aimed at teaching rider balance.
Expertise
Nikki is a Chartered Physiotherapist and ACPAT Cat A Veterinary Physiotherapist based in Buckingham and surrounding areas. Nikki started treating in 2011 and has expanded her therapy and performance services to include Rider-specific exercise classes.
For more information visit Rider Lite
8. Youniquely Fit
What do they offer?
YouniquelyFit is a service provider of posture-based at-home tailored programs that will improve functional movement, alleviate chronic pain, prevent injuries, and get you as close to perfect posture as possible. They know how important training with your horse can be. It's just as important to build up your strength and stamina by exercising out of the saddle.
What is the cost?
Free
What do you get for your money?
Unlimited free access to over 140 horse riding-related YouniquelyFit's on-demand fitness videos including a posture assessment.
Expertise
Athena Casey is originally from Winston-Salem, N.C. She spent over a decade in NYC as an actor, singer, dancer, and fitness professional, but now calls California her home. She holds certifications through The National Academy of Sports Medicine in Corrective Exercise, Golf Performance Training, Optimum Performance Training for the Pre-Natal Client, Personal Training, Nutrition, and Weight Management. Athena is also a certified yoga instructor through Sonic Yoga and a member of The National Yoga Alliance.
For more information visit Youniquelyfit
9. Train With Shelby
What do they offer?
Train From Anywhere With The TWS Mobile App, with 5 Rider Fitness programs on Subscription, Virtual Training & Fully customized options available! Equestrian-focused programming. This fitness program is made by riders for riders.
Body in Balance Plan
A home Workout Series using Body-weight only workouts to help you stay in shape with tension-relieving stretches and muscle-strengthening body weight exercises.
Rider Yoga Plan
Structured to promote length & mobility, and is great for all levels of Fitness. This Yoga & stretching program is created just for the Rider, with a lot of focus on the hips and back!
Rider Fit Plan
A ready-to-go Rider Fitness Program using Muscle Activation techniques to increase awareness, posture & mind-muscle connection using Resistance bands & some light weights.
Balanced Rider – Bosu Plan
Add a new challenge to your workouts with a balance ball! Stretching, strengthening, and cardio; this program will take you to a new level while incorporating the Bosu ball throughout.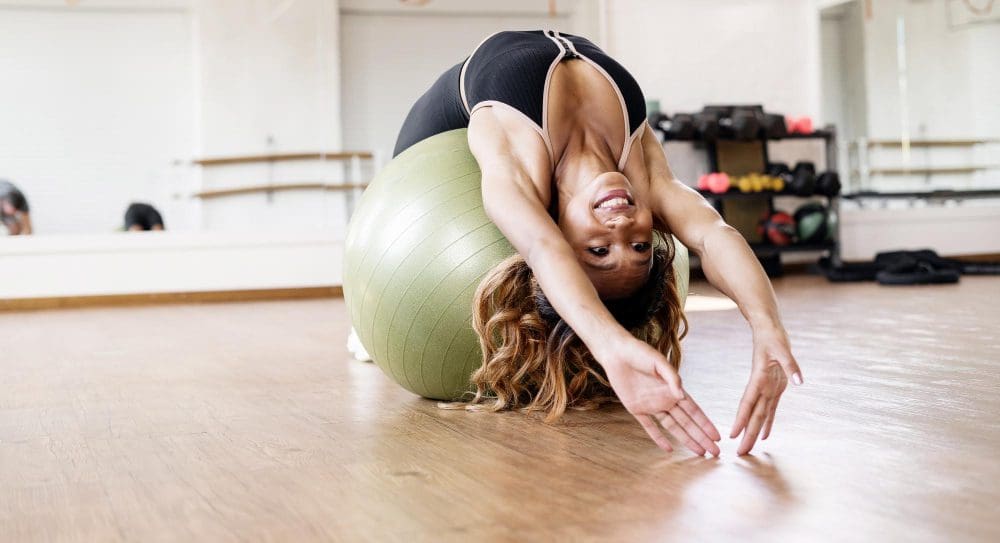 Rider Fit & Strong Plan
Level Up! A plan filled with Resistance Training & Mobility. Increase strength in a balanced way, promote good posture, and increase lean muscle mass.
What is the cost?
Each of the 5 programs in the home workout series costs $14 USD per Week.
What do you get for your money?
Simple follow-along video tutorials to show you how to do each exercise with ease. Perfect for any level of fitness. Weekly check-ins, accountability, and coaching. All you need is an app on your smartphone to take full advantage of all the perks of this program. Access to a private community of other like-minded equestrians who are there to support you in your journey.
Expertise
Shelby has been a rider for over 20 years and appreciates the time, dedication and passion that goes into the sport. She has spent many years training young horses, competing jumpers, and working for a dressage trainer. In 2016 Shelby received the coveted title of Bereiter (FN) from the German National Federation. After her return to the U.S., she held a position as Head Dressage Rider in a large Training & Sales Stable.
For more information visit Train with Shelby
10. Pilot Equine Equestrian Workout App
What do they offer?
Pilot equine is a leading supplier of horse and human joint supplements that is currently working on an effective and efficient way for riders to keep fit, with an ever-growing library of workouts accessed via an app.

What is the cost?
At the time of writing the app is still under development but they are offering access to all their workout guides for horse and rider free with any order of human or horse supplements from the store.
For more information visit Pilot Equine
About Pink Equine
Established in 2007, we have a range of horse bridles with interchangeable parts that can not only help with bridle fit but which are made from top-quality European Leather and are stunning to look at. Over the years we have become experts in helping customers all over the world find products that actually fit their horses.
We are the only company, that has its own online software configurator where you can literally design your own pieces of horse equipment, from Horse Bridles, Girths, and saddle pads to Browbands, Bandages, and Ear Bonnets. No matter what the equestrian discipline, we are able to cater to your needs.
We hope you will take a bit of time to explore our site and view some of our unique horse tack designs, as well as the beautiful and technically proficient range of saddle pads and girths by E A Mattes. We have also been working hard on our Pink Equine Blog, to bring you informative and interesting articles such as this one. If you would like to receive notification of more articles as and when they are published, whilst enjoying a 10% discount off all ranges on our website, then we invite you to join us by registering FREE as a member.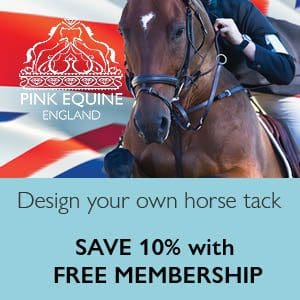 Back to Blog