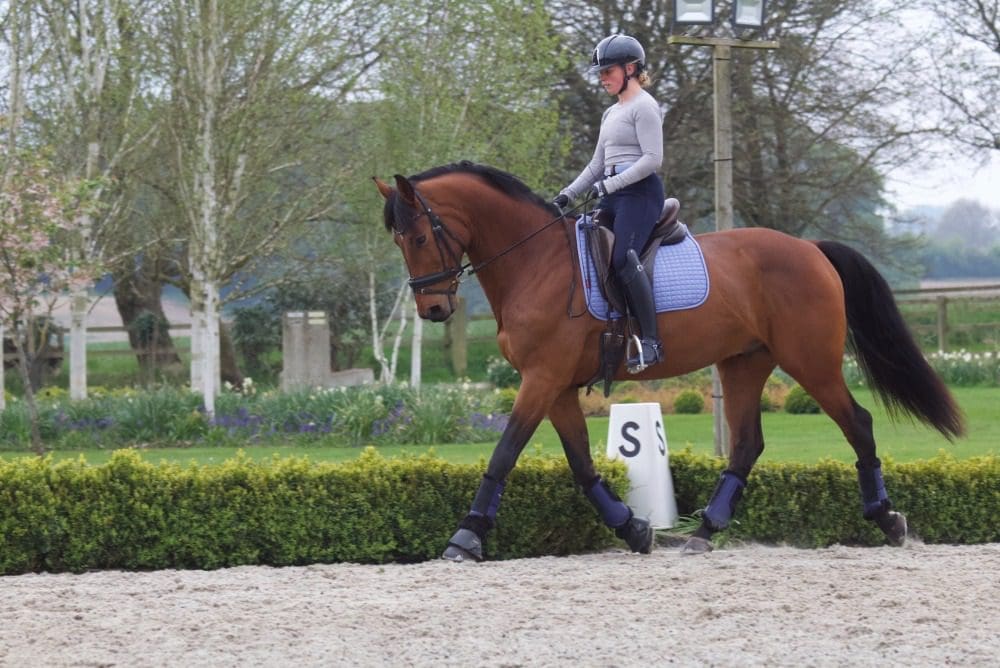 Pink Equine welcomes are newest sponsored rider Charlotte Fricker and her horse Flynn.
Charlotte is a 26-year-old equine veterinary nurse who started riding horses when she was just 3 years old. Charlotte got her first pony Madjihn when she was 9 and who is now enjoying retirement!
Charlotte began competing as an event rider whilst living in France, and upon moving back to England, was offered the chance to ride a 9-year-old warmblood called Flynn. Initially, the plan was to carry on Eventing, but it quickly became clear that Flynn was more suited to dressage.
Charlotte and Flynn started competition life in 2019 competing in Novice and Prelim competitions, where they excelled and quickly moved on to Elementary and Medium levels. The start of the year saw Charlotte being offered the chance to own Flynn and both of them competing at Advanced Medium having qualified in Flynn's first three outings, an excellent achievement in a relatively short career.
Charlotte is excited to be competing at A M Freestyles over the summer and hopes to qualify for Winter Regionals, gaining an all-important ticket to the championships. Charlotte comments "I am so lucky to have the support of my partner, parents as well as an amazing trainer, who has made me realise that I can achieve my goals to become semi-professional and compete at Grand Prix level".
We are excited to be able to sponsor Charlotte and look forward to helping her achieve her goals. Follow Charlotte on Instagram Charlie_Fricker and make sure you bookmark this page so you can keep up to date with her progress.