Design your Own Horse Tack
Pink Equine has introduced brand new and exclusive online software we like to call the "Configurator" that allows you to design your own horse tack and have it made to your very own specifications.
The "Configurator" allows you to easily design a unique piece of horse equipment by choosing from hundreds of coloured piping and crystal stone combinations in respect of our bridle work and over 30 different colour combinations, sheepskin styles, and colours, rope trims and bindings in respect of saddle pads and girths. The number of possibilities is unlimited and you can save your designs and create matching sets of horse tack before placing them in your cart to purchase.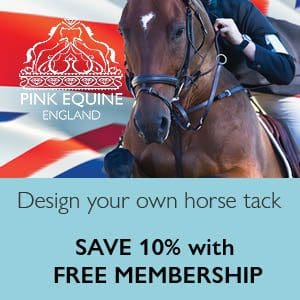 You can literally design each piece of horse tack so that they match each other, bridle, saddle pads, girths, horse boots, and even your horse's headcollar. Create an entire collection for your horse
Our complete range of configurable horse tack can be found here. Click on the relevant category, choose the product, and the "Design Yours" button to start designing. The whole process is very simple and self-explanatory but we have created a range of short "how to" videos, in our configurator guide to show you in real-time how the software works. If you get stuck or have a question feel free to contact us.
Back to Blog