A Buyers Guide to Bespoke Horse Tack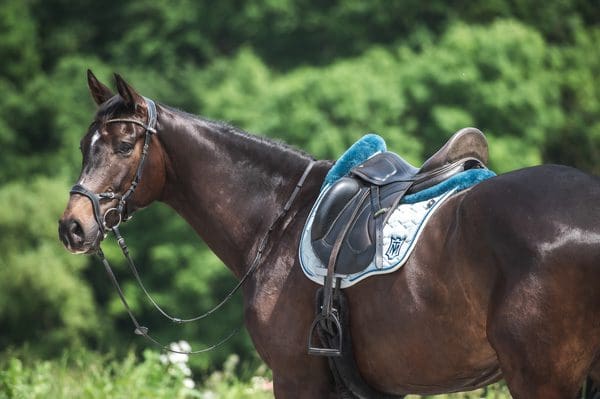 What does Bespoke Mean?
The Oxford dictionary defines bespoke as "Made for a particular customer or user". The phrase was commonly used to describe a bespoke craftsman such as a tailor that made and sold things specially made for the customer who ordered them. It is the same when buying Bespoke Horse Tack. It means you are buying an item that has been made especially to your specifications and is unique to you.
What are the benefits of buying bespoke horse tack?
Here are the benefits of purchasing our bespoke horse tack:
Uniqueness – Each item of horse tack is custom-made to your specifications, with your preferred colours and trims. You won't find the same style, colour, or design of horse tack being worn by any other horse, making your horse stand out from the crowd.
Superior Quality – Our bespoke items cannot be mass-produced as each one is unique. Unlike off-the-shelf horse tack that prioritizes speed, our bespoke items are made with exceptional attention to detail, ensuring a higher quality product.
Customization – You'll receive exactly what you want with our bespoke horse tack. Unlike standardized sizes found in ready-made items, our custom-made tack is tailored to fit your horse perfectly, providing maximum comfort and support.
Reduced Lead Time – While you can't take away your bespoke item immediately, we've worked hard to reduce lead times to under six weeks. You'll have your perfect, one-of-a-kind horse tack in no time.
Choose our bespoke horse tack for a unique, high-quality, and perfectly fitted product that will make your horse stand out from the crowd.
At Pink Equine, we've simplified the process of buying bespoke tack for you. Our website now brings together the best bespoke saddle pads, horse boots, girths, bridles, browbands, and accessories all in one place. With our innovative configurator, you can select the product you want, customize it to your exact specifications, and visualize the finished product before making your purchase. This means you can be confident that your bespoke tack will meet your expectations, making your shopping experience both enjoyable and stress-free.
Which Products are Bespoke
Bespoke Products are:-
All Sport Range
All Diamond Range
All Tyffany Range
All Dogs Range
All Mattes Range
On each product you will see a tab marked "Delivery & Returns" where the description details how long that specific item will take to ship. Items in stock will normally be mailed out and reach you within 7 days (International Orders may take a few days longer).
Estimated delivery timescales for bespoke items
Mattes bespoke order 4 – 6 weeks
Pink Equine bespoke orders up to 8 weeks
*** Exciting news! Many of our bridles are now in stock and ready to be shipped within 7 days. You can still customize your bridle with your choice of crystal colours and patterns. Additionally, we have a vast selection of Cob and Full Sport and Tyffany Browbands available in Black and Brown Leather that we keep in stock. If you require an item urgently, don't hesitate to call us at +44 (0)(1386) 833050, and we'll do everything we can to get your order to you as soon as possible. Shop now and treat your horse to the best in quality and style!
***Take advantage of Mattes' superior technical design and manufacturing by ordering one of their standard saddle pads or girths from their warehouse. If you're not worried about specific colours, we can deliver these products to you in approximately three weeks. Place your order now and experience the difference for yourself!.
What happens if I make a mistake on my order
When you place your order with us, we will hold it without passing it through to the manufacturer for 48 hours, during that time you may amend or cancel your order. It is important though that you check your measurements are accurate and for this, we provide two things with our guide on How to Fit a Bridle, and measurements to help you decide on which size you need in our Size Guides.
We are always happy to assist with choosing the right size or style, so if you get stuck, simply contact us on our Contact Us page, or phone us on +44 (0)(1386) 833050.
Can I Cancel my Order
In respect of Bespoke ordered items (including Short Order these cannot be cancelled once ordered after the initial 48 hours have passed. After the 48 hours have passed the order will have been sent to the manufacturer for production. This also applies if the item takes longer, as – at times – there may be circumstances outside of our control that affect this.
How do I purchase
For in-stock or sale items, click on the item to order and place it in your shopping basket. For bespoke items click the "Design Yours" button, where you will be taken to the "Configurator" design page and you can build a product to your specifications and see what you are buying displayed on the screen. Once you are happy with the design, click order and this will be placed in your shopping basket, ready for you to check out as normal.
Can I save money on my order?
You can sign up as a Member and receive customized VIP discounts. Membership presently offers a 10% discount on all Non-Sale items. Membership also affords you other discounts from time to time that can be added to your regular Membership discount to create amazing unbeatable prices.