Blue Horse Tack Collection

The Blue Horse Tack Collection
Polo "The sport of Kings" has an unfair reputation for being a notoriously posh sport and heavily associated with the aristocracy. In reality, Polo is watched and supported by people from all walks of life, but there is nothing quite like sipping a cool drink on a sunny day and feeling the ground shake beneath your feet as 8 ponies and riders thunder past, in an attempt to hit a ball between two posts.
Our Blue horse tack collection was inspired by the sport of polo, (although they can be worn by any horse) with crisp blues and whites forming the basis of our designs. A choice of two Mattes Numnahs, an ergonomic sheepskin girth, The Pink Equine Sport Interchange Grackle Bridle, and a set of Mattes Horse Bandages.
The Blue tack set can be ordered in our shop, individually or as a collection. We are able to offer savings if you would like to purchase the complete collection, please email us for more information. You can find more particulars of each individual item below.
The Blue horse tack collection features the following products:-
Pink Equine Sport Interchange Grackle Bridle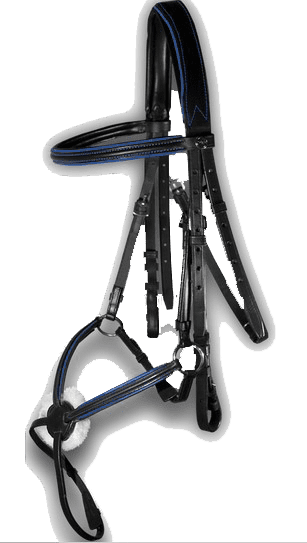 The Sport Interchange Grackle Bridle is made from soft black leather offset with blue piping and stitching. The Grackle Noseband features removable sheepskin padding. Although the bridle in our collection has a grackle noseband, this bridle can be ordered with a plain or flash noseband if required. All our bridles feature removeable nosebands so that they can be easily swapped out when necessary.
Use our configurator to replicate the browband design or configure your own arrangement: Design your Own Sport Interchange Colour Piped Bridle
Mattes Anatomic Sheepskin Girth

The Mattes Anatomic long girth suits horses that have a well a defined girth area that sits far enough away from the horse's elbow. The strap is in the front and back of the elbow area and has been trimmed. This example is made from a blue cotton quilt and matching sheepskin cover, with a subtle white binding. Mattes offer different shaped girths to suit different horses, but they can all be ordered in the same colours.
Order yours now using our online configurator: Mattes Anatomic Long Girth in Blue
Mattes All Purpose Cotton Numnahs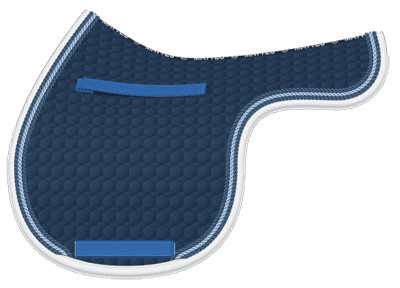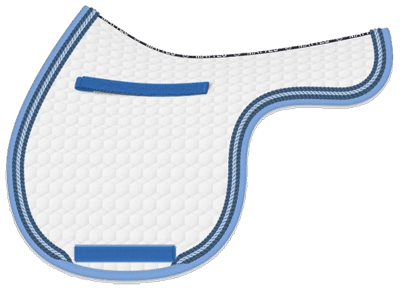 The Mattes Numnah looks great on any horse and carefully contours the shape of your saddle. Both numnahs are available in our collection and contrast each other. Choose either the Blue Cotton Quilted version with Blue and Ice Blue rope trims and Royal Blue Velcro straps with White Binding, or the White Cotton Quilted version with Light Blue Binding, Blue and Ice Blue rope trims, and Royal Blue Velcro straps, or if you want to mix and match order both!
Click here to order one or both of these Mattes Numnah now: Mattes Cotton Quilt All Purpose Numnah
Mattes Horse Bandages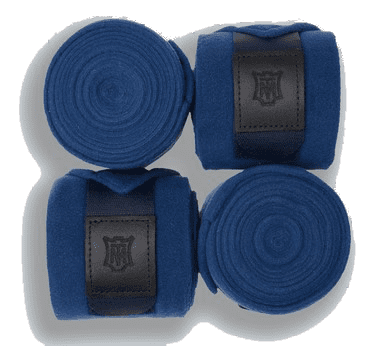 Made from a supremely soft high-quality double-layer EHQ Fleece material, the Mattes Blue leg bandages really complete the blue horse tack set and look great on any horse or pony.
Click here to order your Mattes Leg Bandages: Mattes Fleece Leg Bandage set
This complete collection is available to order now and perfect for riders of all abilities.