Dressage Horse Tack Collection

Lottie Fry and Charlotte Dujardin are two of the most well-known female dressage riders in the UK and what an inspiration they are, for anyone who is thinking about taking up the sport. At the very pinnacle of their careers, they ride their horses in such a majestic fashion and are a real dream to watch. This dressage horse tack collection is inspired by our brilliant British Dressage Team!
The majority of dressage riders compete in white saddle pads and black tack, so the main theme running through this classic dressage collection is white with only a subtle hint of contrasting colours. The dressage horse tack collection consists of a Mattes Eurofit dressage saddle pad, Asymmetric Sheepskin Girth, Leather Horse boots, and the Pink Equine Diamond Wave patent leather bridle or the Tyffany wave browband.
All these items can be ordered in our shop, individually or as a complete dressage collection. We are able to offer savings if you would like to purchase the complete collection, please email us for more information. You can find more particulars of each individual item below.
The dressage horse tack collection features the following products:-
Tyffany Wave Browband

The black leather browband in the collection is designed in a wave style to accentuate the shape of the horse's head. The browband is set with SS29 Swarovski Crystals in a three-colour repeating 1, 1, 1 crystal, graphite, crystal pattern coloured stone pattern. The browband can be ordered on its own or as part of a bridle set.
Use our configurator to replicate the browband design or configure your own arrangement: Design your Own Tyffany Wave Bespoke Browbands
Mattes Asymmetric Sheepskin Dressage Girth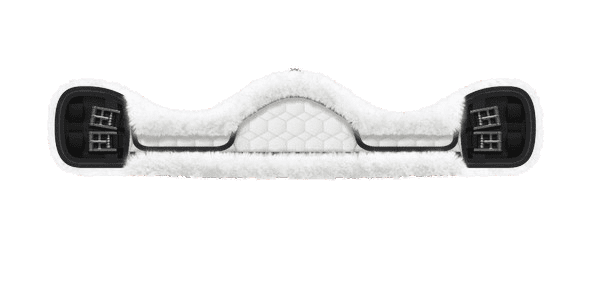 The Mattes Asymmetric dressage girth is specifically designed for horses that have a less well-defined girth area, or close coupled horses that have less pronounced rib cages and are slightly closer to the elbow. The Asymmetric girth is severely cut back in front of the elbow area to rectify this issue. Remember that the curved neck always points to the front. Mattes offer different shaped girths to suit different horses. They can all be ordered in the same colours. The Asymmetric girth in our collection is made from a white cotton-padded quilt, a white sheepskin cover, and black contrasting binding.
Order yours now using our online configurator: White Asymmetric Dressage Girth
Pink Equine Diamond Wave English Dressage Bridle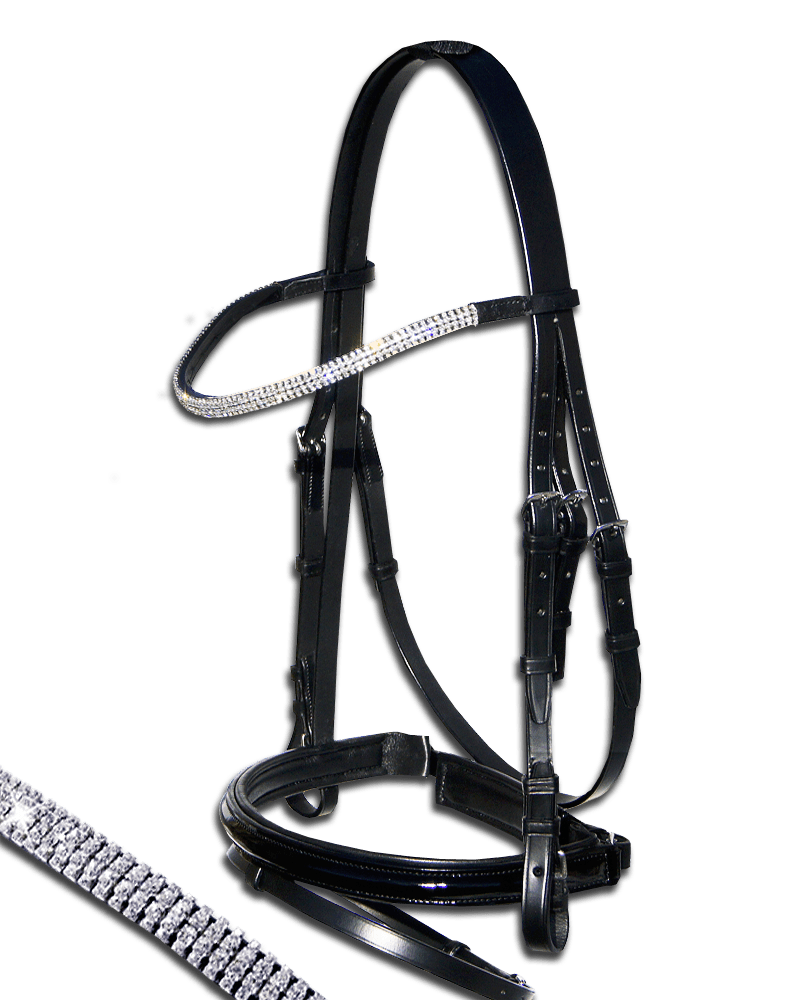 The Pink Equine Diamond Wave dressage bridle is manufactured from a soft yet strong European Black Leather. This bridle is simply stunning! The Noseband is made from Black Patent leather and the browband consists of four rows of silver-plated lead-cut diamante crystal stones, transforming any bridle and complimenting the rest of the collection.
Click to order this exact bridle now: The Diamond Wave Tyffany Wave Dressage Bridle
Mattes Horse Boots Set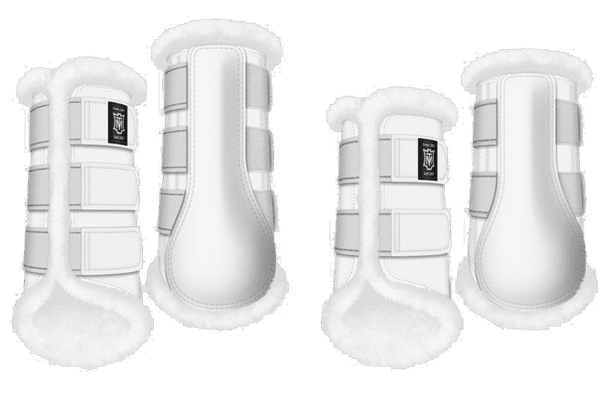 We appreciate that horse boots and bandages may only be worn when warming up and need to be removed when competing, otherwise risking elimination from the competition, but in our opinion, the Mattes horse boots provide superior protection, support, and comfort for your horse whether used in training or warming up and we just had to keep them in the collection.
The Mattes boots are made from top quality white coloured leather and supremely soft matching sheepskin, available in a wide range of sizes.
Click here to order your Mattes horse boots: Mattes horse boots set
Mattes Eurofit Cotton Dressage Saddle Pad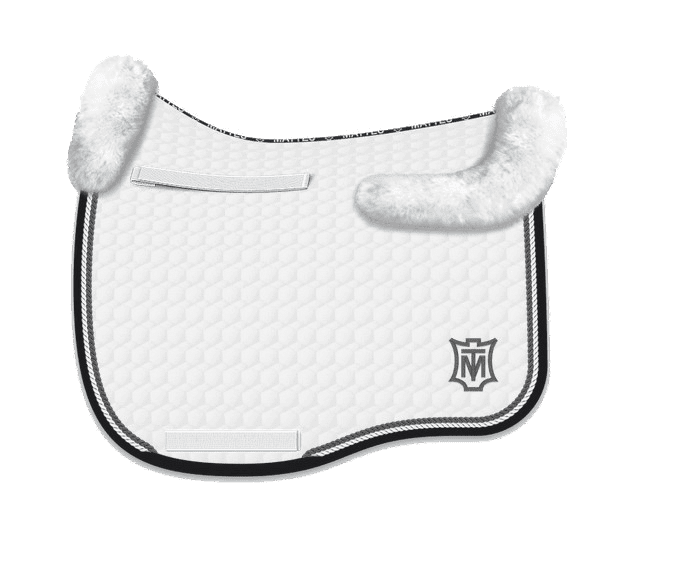 Mattes are famous for their functionally designed custom-made saddle pads and the Eurofit saddle pad is no exception. The pad in this collection, designed to fit dressage saddles, is made from a 180g/m2 weighted white-coloured cotton quilt. The pad is finished with front and rear white lambskin, with contrasting black binding. White and Graphite rope trims with white velcro straps and a graphite-coloured embroidered Mattes logo complete the look. The Eurofit pad is available in Small, Medium, Large, and Extra Large and is perfect for the dressage rider. Order your Eurofit saddle pad using our online configurator.
This complete dressage horse tack collection is available to order now and perfect for dressage riders of all abilities.