Green Horse Tack Collection

Green Horse Tack Collection
The clothes we wear say a lot about who we are and the same is true about horse tack. Many customers have a clear vision of what they want and we are often amazed at the beautiful matching colour combinations customers have designed.
However, in case you are stuck for some ideas, we have assembled several different collections that we hope will stimulate your creative juices. Introducing the Hunter Green Jumping Collection.
Inspired by cross-country equestrians, the Green Horse Tack Collection is based on a matching green theme. The colour green represents the colour of life, energy and nature. It symbolizes growth, harmony and freshness. The green piping matches beautifully with our brown leather bridle, Tyffany browband, horse boots and jumping girth and the whole collection is complimented by a Mattes Eurofit jumping saddle pad.
The Green Tack Set can be ordered in our shop, individually or as a collection. There are several different shades of green available, so feel free to play around with the designs using our bespoke configurator. We have provided more detailed information on each item below.
The Green Horse Tack collection features the following products:-
Tyffany Wave Browband

As well as the brown leather our Tyffany style browbands are also available in black and tan. The browband in the collection is a wave style browband set with SS29 Swarovski Crystals in a three-colour repeating 1, 1, 1 pattern using Olivine, Emerald and Peridot coloured stones. The three colours match the green piping and the ropes and quilt colours of the saddle pad. The browband can be ordered on its own or as part of a bridle set.
Use our configurator to replicate the browband design or configure your own arrangement: Design your Own Tyffany Wave Bespoke Browbands
Sport Interchange Colour Piped Stud Girth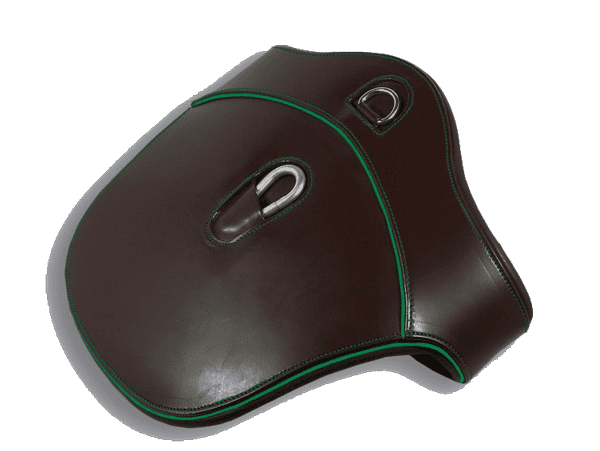 Designed specifically to protect your horse's underbelly when jumping the Sport Interchange Stud girth is manufactured entirely from top-quality European Brown Leather. The girth features a protective plate with a fully breathable neoprene inner filling, that is much softer than normal padding and more flexible to the touch, whilst still providing the horse with more than adequate protection. Available with a smaller size plate for ponies (90cm – 115cm girth lengths) and a larger plate for horses and warmbloods (120cm – 140cm girth lengths).
The girth comes with useful attachments to allow the inclusion of training aids and a martingale. The design is finished with a subtle but stunning line of green piping and stitching.
Order yours now using our online configurator: Sport Interchange Colour Piped Stud Girth
Tyffany Wave English Bridle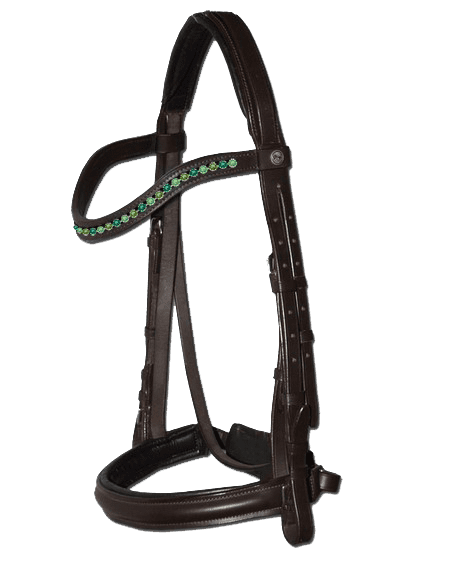 The Tyffany wave bridle is exclusive to Pink Equine. Manufactured from a soft yet strong European Brown Leather (Black or Tan leather is also available), this bridle is really something! Available in Pony, Cob, Full and Extra Full, and in Plain or Flash Noseband Styles and even as a Weymouth or Double bridle. The Wave browband really sets this bridle apart and the Olivine, Emerald and Peridot coloured stones, compliment the rest of the collection.
Click to order this exact bridle now: The Tyffany Wave English Bridle
Sport Interchange Colour Piped Tendon and Fetlock Boots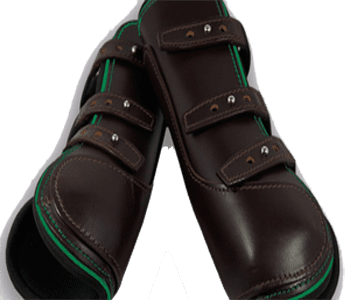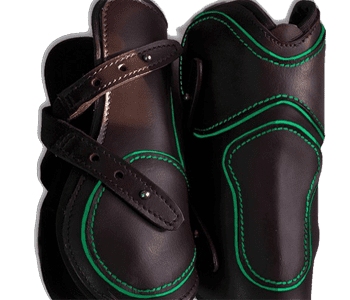 Pink Equine Tendon and Fetlock boots are made from top-quality brown Italian leather and soft inner neoprene padding. The boots have been shaped for comfort, with a rolled edge to provide additional protection and cushioning. The boots are finished with matching green piping and stitching.
Click to order your now: Tendon and Fetlock Boots by Pink Equine
Mattes Eurofit Cotton Jumping Saddle Pad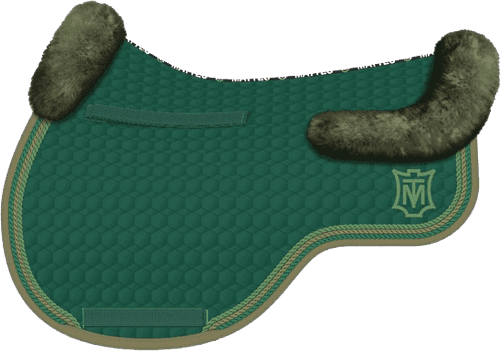 Mattes are famous for their functionally designed custom-made saddle pads and the Eurofit saddle pad is no exception. The pad in this collection, designed to fit jumping saddles, is made from a 180g/m2 weighted green-coloured cotton quilt. The pad is finished with front and rear Olive-dyed lambskin and binding. Green, Olive and Gecko-coloured rope trims with green velcro straps add a touch of class and the look is finished with an embroidered Mattes logo also in Gecko. The Eurofit pad is available in Small, Medium, Large and Extra Large and really ties all the different pieces together.
Order yours now using our online configurator: Mattes Eurofit Jumping Saddle Pad
This complete collection is available to order now and hope we have given you some inspiration. Don't worry if green is not your colour, we have hundreds of different shades to choose from! Get designing!!