AVAILABLE NOW Mattes Diamante saddle pads in any style!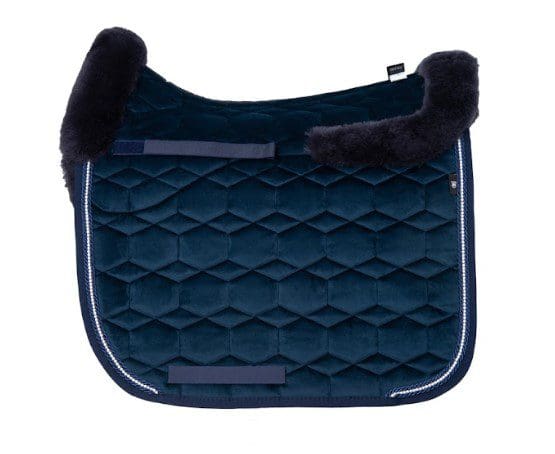 For those of you who love Diamante Saddle Pads, you can now choose any style of Mattes saddle pad with the diamante trim.
Mattes Diamante Saddle Pads
Up until now, the Mattes Diamante trim was only available on Mattes dressage saddle pads and specific colored saddle pads as part of a collection. Well, the good news for those of you who love crystal saddle pads or saddle pads with bling is that exclusively through our online design software, we are now able to offer the Diamante Trim with a choice of any colour rope trim on any style of English Saddle Pad or Western Saddle Pad.
White Dressage Saddle pad with bling
The Mattes White dressage saddle pad with bling is still available and still dressage legal. You can choose from white cotton, cotton sheen, or velvet quilts with or without sheepskin. The diamond trim sits between two rope trims and finishes what is a stunning dressage saddle pad. Compete in this dressage pad and you are sure to be noticed! To order the White dressage saddle pad choose either the Eurofit or Square style pads and cotton, cotton sheen or velvet quilts. Click the design yours button and choose either White, Pearl or Champagne Trim for Ropes 1 & 3 and the crystal trim for rope 2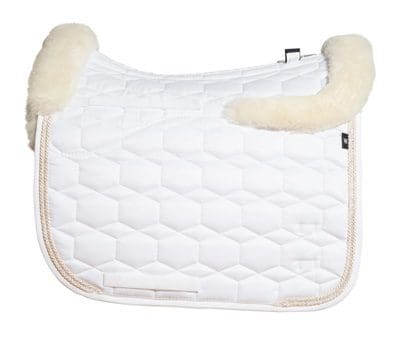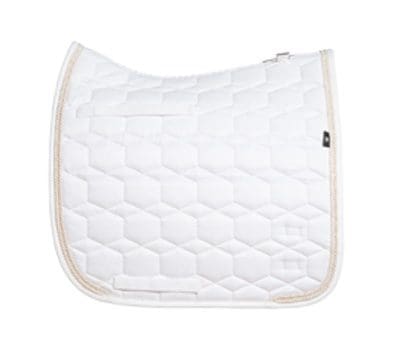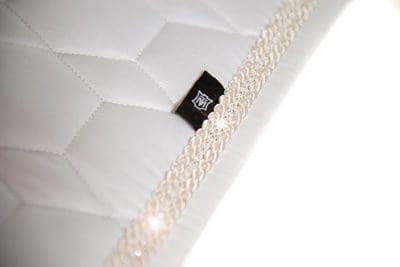 Mattes Square diamante saddle pad
For the first time and only available to Pink Equine customers through our unique online design tool, presenting Mattes Square Diamante Saddle Pads. Similarly to the Dressage Pad, you can opt for cotton, cotton sheen, or velvet quilt, in a wide range of colours and compliment the quilt with a row of clear-cut crystal stones nestled between a choice of over 30 different colours of luxury rope trims. Available in General Purpose, Jumping, or Dressage Cut.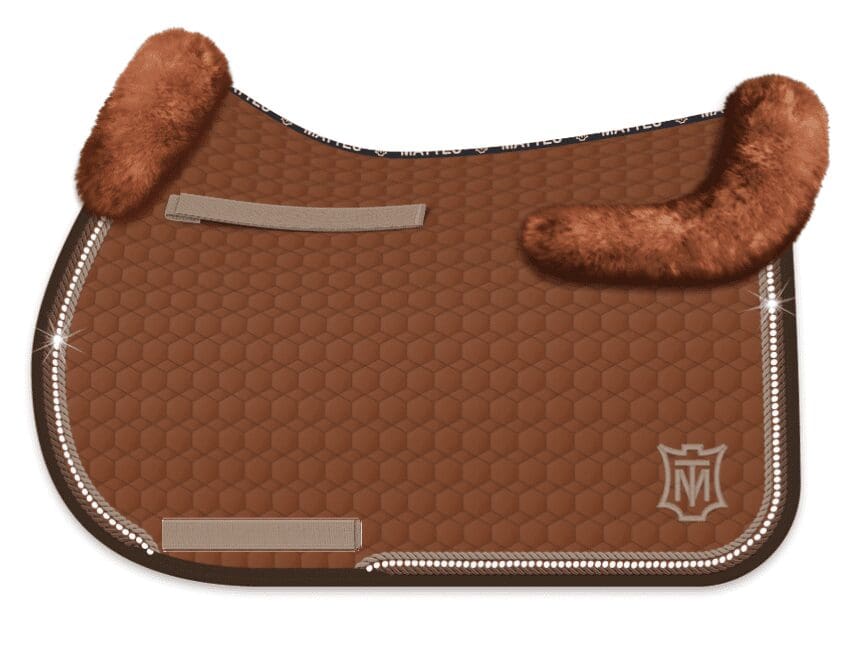 Mattes Eurofit Diamante saddle pads and Diamante Numnah
Two beautifully designed pads from Mattes, the Eurofit pad and Numnah and now you can also include diamante trim on both, only available through Pink Equine. Similarly to the square Pad, available in three styles, Jumping, All Purpose, and Dressage, and in Cotton, Cotton Sheen, or velvet quilts. Clear Cut Crystals sit between two luxurious rope trims and you can choose from any colour in the range. These would look amazing as Crystal Jumping Saddle Pads, and just as good in the General Purpose cut.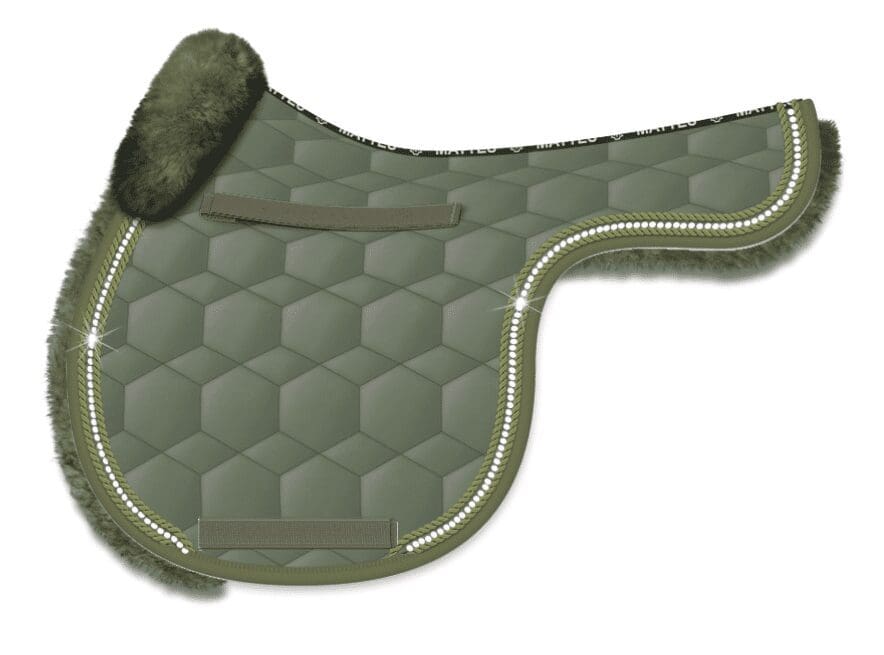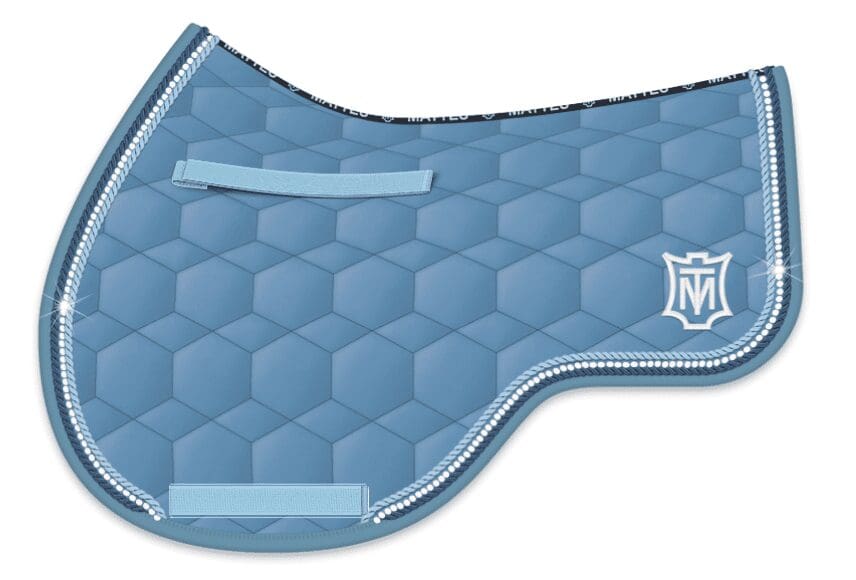 Mattes Western Saddle pads with Bling
All Mattes Western Saddle Pads are now available with the crystal rope trim and they look absolutely amazing! You could easily use this as a show pad. The western pad is so well made and the diamante trim really sets the pad apart from anything else. A choice of Cotton, Cotton Sheen or Velvet material and clear-cut crystal trim that sits between your choice of coloured rope trims, available in all styles of the pad and in the standard and Rio Pecos versions.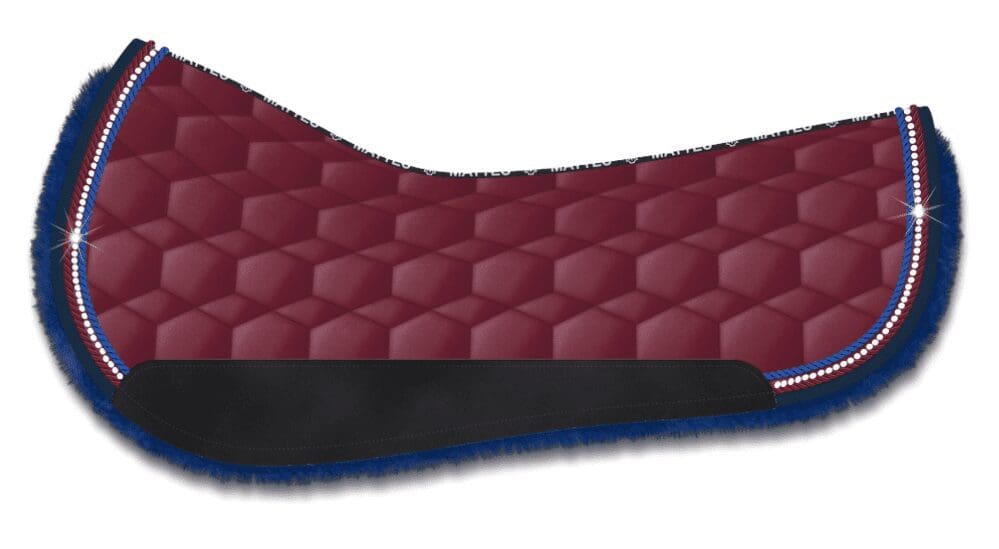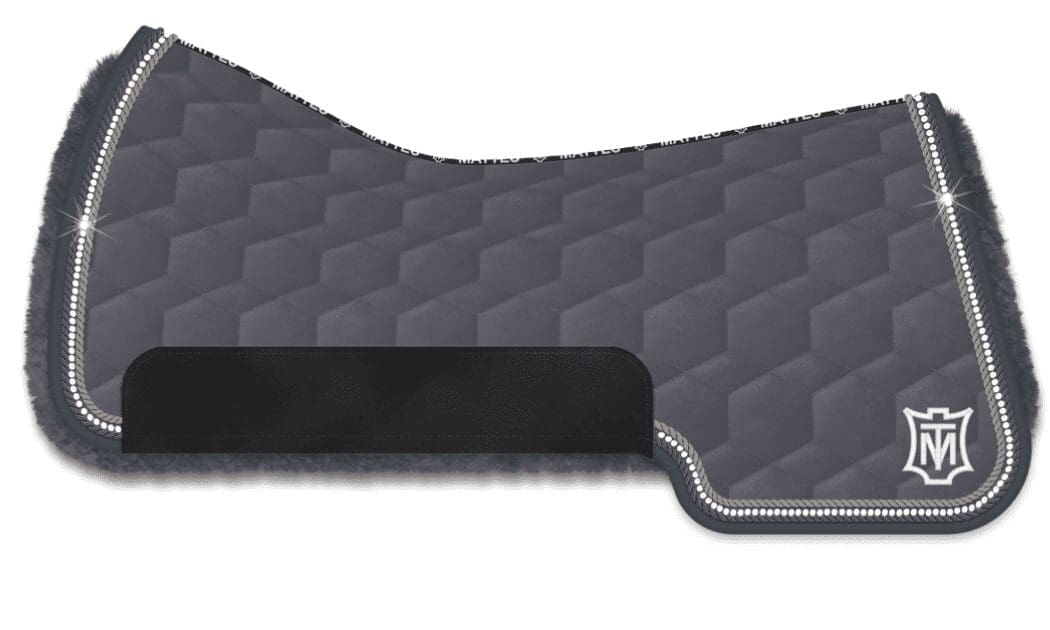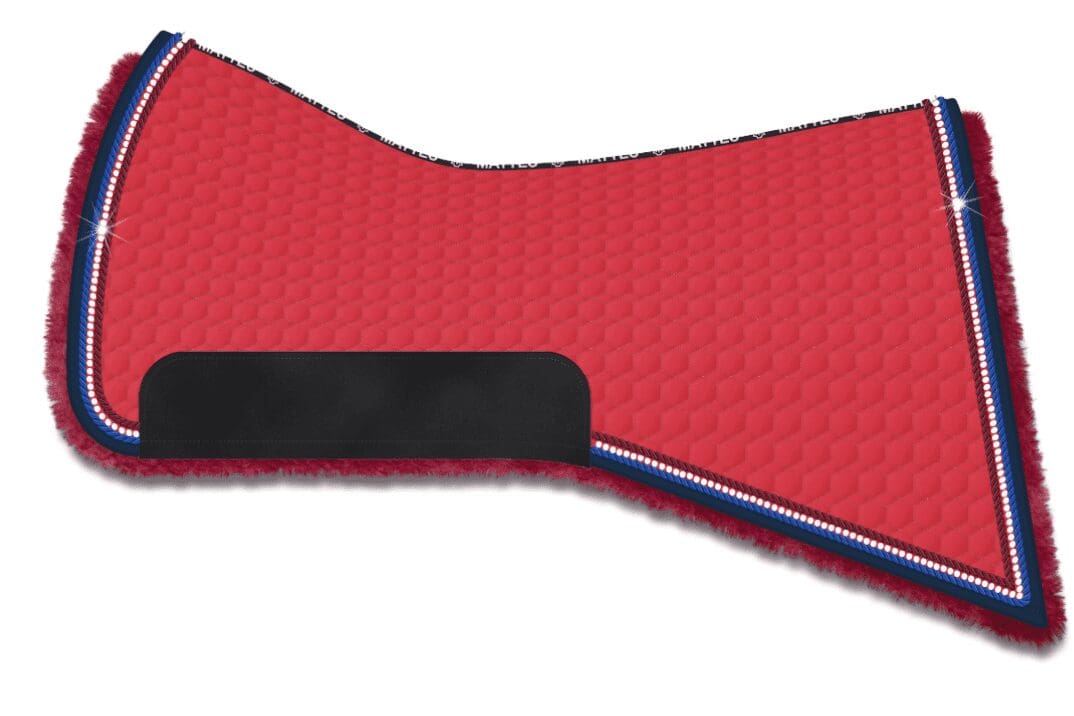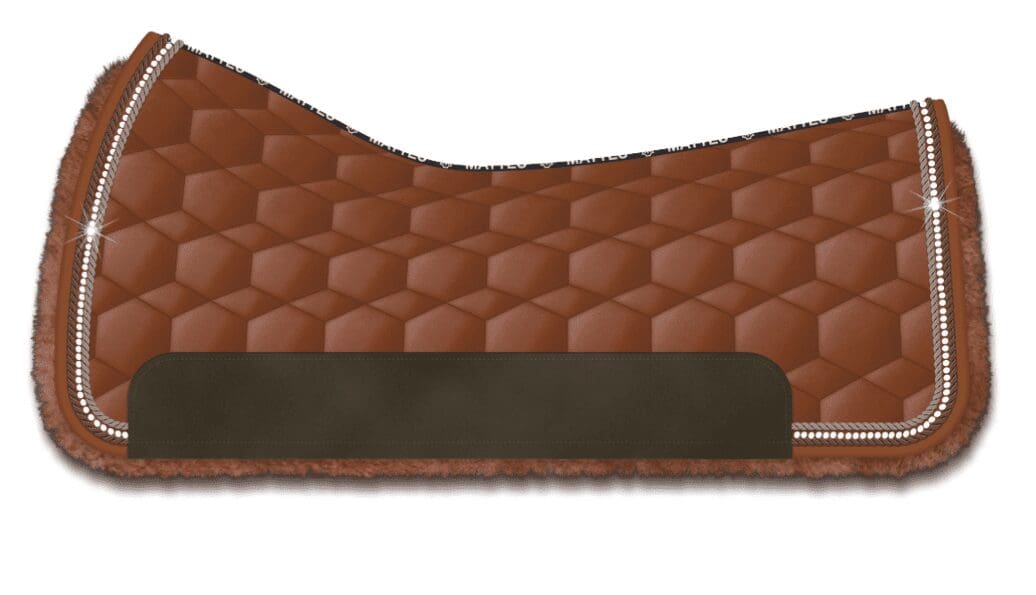 Other Mattes Saddle Pads
As well as the more popular saddle pads, Mattes also offers the diamante trim on their treeless range, their endurance range and their Baroque range of pads.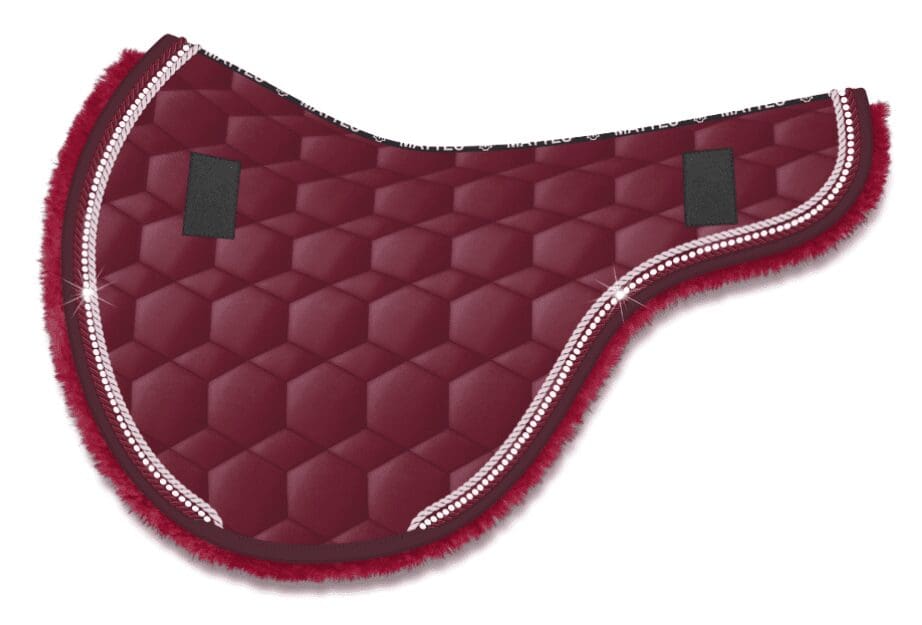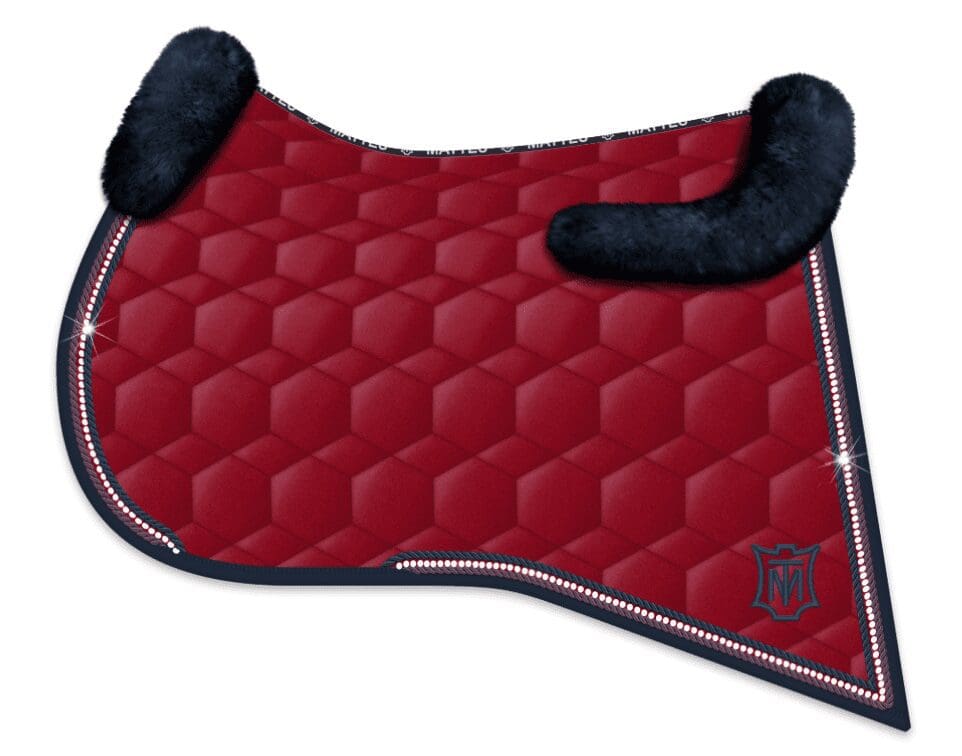 How to Order a diamante trimmed pad from Mattes?
Ordering a diamante-trimmed pad is very simple. If you have ever used our configurator software to design your saddle pad before, it is exactly the same process. Click on the style and type of pad you want. Click the design yours button at the bottom of the product page.
When you get to the design page, choose, the colour quilt and whether you require sheepskin etc and when you arrive at the rope trim choices, you will notice on the 2nd rope trim, the crystal trim option as per the example below. Select that option and make sure you choose the required colours for rope trims 1 & 3 and your finished design will show up on the left-hand side as shown in the image below. (Remember that if you order the crystal trim in place of rope 2, you must order ropes 1 and 3 as well). Finish designing your saddle pad and once you are happy, add the item to your cart and check out as normal. We look forward to seeing your designs, if you have questions about the new diamante trim please don't hesitate to contact us.