Interested in buying an E A Mattes Equestrian product and want to know why you should buy? Well here are 5 great reasons for you to choose Mattes over other Brand Names:-
Each E A Mattes item is handmade
Mattes use only the very best quality natural materials
Each item is bespoke and manufactured according to your designs and colour combinations
Each item has been thoroughly tested and is technically proficient
Mattes stand the test of time having been in business over 150 years
Who are E. A Mattes?
It's good to know E.A Mattes have been in business for over 150 years. Founded in 1867, they specialize in leather tanning, specifically sheepskins, sheep and goat leather.
E. A. Mattes are the go to company for their sheepskin and lambskin covers? They have been supplying companies like Bentley and Boeing for years and are an exclusive supplier to Mercedes-Benz. E. A. Mattes have been one of the leading manufacturers of car seat covers for several decades and are ISO certified. Mattes source all their skins from Australia, but have very strict selection and quality control, which means that only the top 5% of skins make the grade and are used in the manufacturing process.
In the 1980's there was a necessity for quality equestrian products and Mattes saw an opportunity to fill a much needed gap in the market. They have been manufacturing high quality equestrian products ever since. The companies ethos is to produce the highest quality equestrian products possible. Mattes work closely with professional riders, saddle makers, veterinaries and osteopaths, to ensure that the products are not only stylish, but completely functional, providing supreme comfort for the horse and assistance for the rider.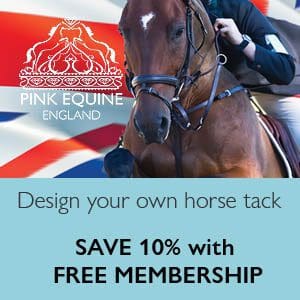 How do you pronounce Mattes?
Most people pronounce the word as "Mats". However the correct pronunciation is "Mat-ez"
What products do E A Mattes sell?
Their equestrian products range from English and Western saddle pads, contoured saddle pads (Numnah's) and half pads, to seat savers, sheepskin and leather girths, fly veils, horse boots and even horse rugs. The attention to detail and product quality, combined with a personalized shopping experience and bespoke manufacture, match our high standards and fit seamlessly with our own bespoke range of horse tack. The Mattes wide range of colours and styles can be coordinated with our own bridle work, enabling you to create a complete matching collection for your horse.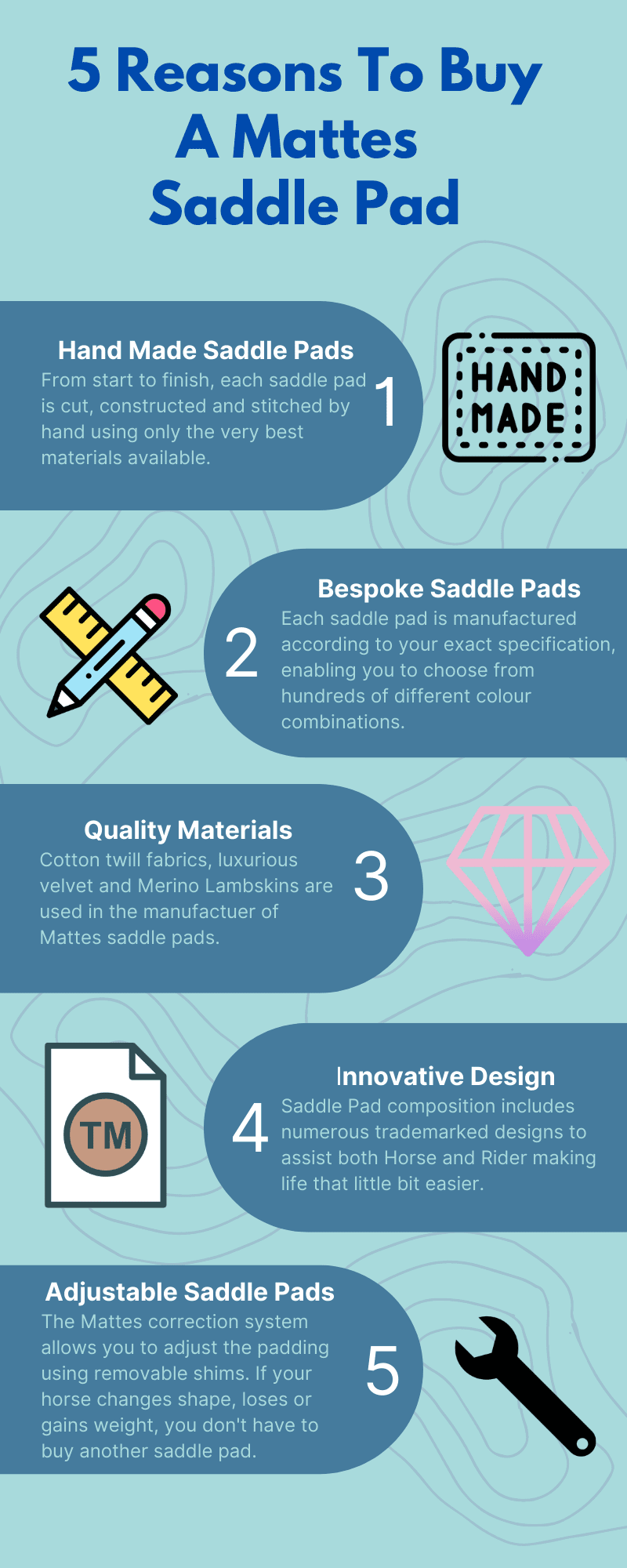 What are the consequences of a poorly fitting horse girth?
A tailor made saddle and saddle pad are pointless if they are let down by a poorly fitting girth. In long term studies, Mattes have discovered that many girths on the market today (especially many of the cheaper ones) are not fit for purpose and in some cases can make the situation even worse. Many girths look as if they have been correctly designed, but suffer from a common problem where the distribution of pressure on a horse's sternum (The hard bump sticking forward on a horse's chest between the legs) was inefficient and uneven.
How are E.A Mattes Girths designed?
The actual pressure is concentrated along the centre line of the sternum, normally about 2 – 3 cm wide. Mattes girths have been designed to distribute the pressure evenly over the sternum, with a system of internal straps working against a plastic center piece. This structure provides good flexibility despite the relatively rigid construction. The addition of a lambskin cover with "SOFT-EDGE" makes an already top rated girth even better.
Mattes make four styles of girth in long or short (dressage girth) versions, they are asymmetrical, anatomical, athletico and crescent, all designed to deal with specific shapes of horse and conformation problems. The girths are covered in a quilt fabric and available in a wide range of colours. Each girth has stainless spring loaded steel buckles and D-rings for draw reins, with elastic buckle straps on both ends. Spreader plates at each end of the girth prevent the buckles from hurting the horse. Mattes long girths are available from 105cm – 160cm in 5cm increments. Mattes short girths from 50cm – 100cm in 5cm increments. Length is always specified from buckle-end to buckle-end.
What horse shape suits the Mattes Anatomic Girth?
The anatomic girth suits horses that have a well defined girth which sits far enough away from the horse's elbow. The strap is in the front and back in the elbow area and has been trimmed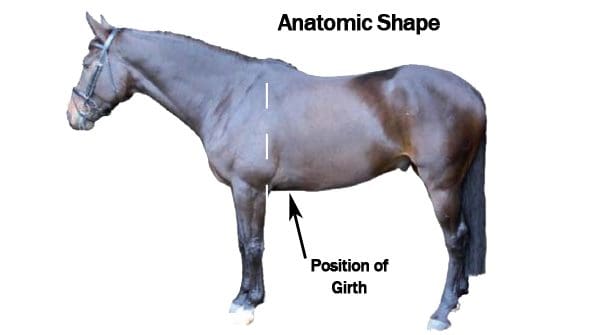 What horse shape suits the Mattes Asymmetrical girth?
The Asymmetrical girth is helpful to horses that have a less well defined girth, close coupled horses that have less pronounced rib cages and are slightly closer to the elbow. The Asymmetric girth is severely cut back in front of the elbow area to rectify this issue. Remember that the curved neck always points to the front.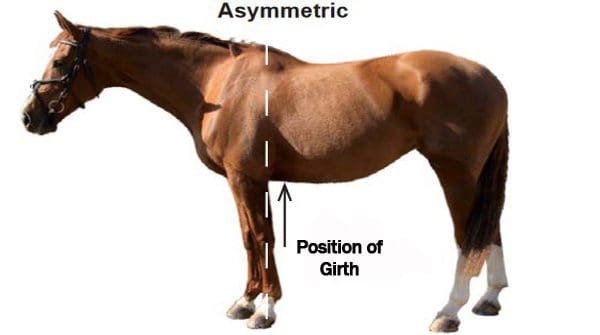 What horse shape suits the Mattes Crescent Girth?
For barrel shaped horses, or those with short backs and wide legs where standard girths tend to slip forward and cause chafing issues in the elbow area. The Crescent girth is heavily cut back in the elbow area allowing greater elbow movement without the possibility of chafing.
The rear part of the girth is wider than the front and this stops the girth from slipping forward. Each girth is supplied with an attached directional label, to make sure
the girth is fitted correctly.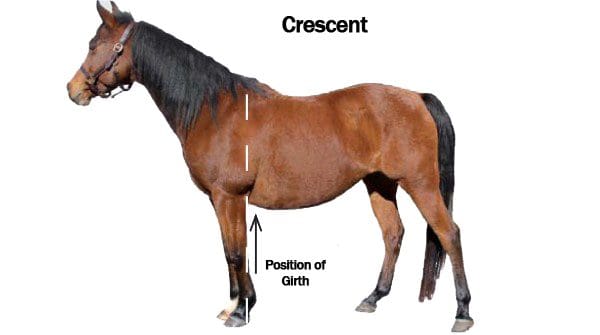 What horse shape suits the Mattes Athletico Girth?
As the name suggest, suitable for horses with an athletic wedge shaped build. The way the belt is shaped prevents the saddle from slipping backwards, which can be an issue on this type of horse. The Athletico girth is supplied with an attached directional label to make sure the girth is fitted correctly.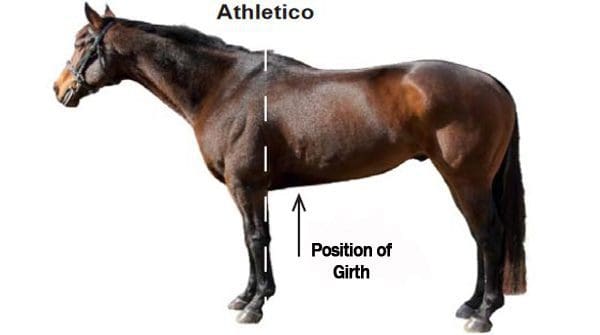 Mattes have recently extended their range of girths by adding a new range called SLIM-LINE. The overriding principles have not changed, but the construction has been improved by making the girth flatter and slimmer (approximately 1.5cm thinner than the quilt girth), with the visible surfaces now made from leather (a choice of black, brown and champagne coloured leather) with a detachable lambskin cover for ease of washing (the plastic insert can easily be removed for washing). Slim line girths look elegant whilst providing added elbow space for the horse.
Mattes also produce a range of western girths or cinches. Manufactured in the same way as English girths and with the same anatomical designs.
What is the difference between an English girth and a Western Girth?
The difference between a western girth and an English girth, is that a western girth has one large buckle, compared to two on an English Girth.
Finally, after interest by several Eventing riders, Mattes have produced a new leather (SLIM LINE) close contact stud girth, designed to protect a horses belly when jumping. The stud guard is covered in leather with a shock absorbing inner core and has the same construction as the standard SLIM LINE range of girths. The martingale clasp consists of a leather strap and buckles, a favourite among top riders. The girths are available in long or short versions and three styles.
What are E A Mattes Equestrian Ear Bonnets like?
E A Mattes sell a range of luxury ear bonnets. Hand crocheted from the finest Egyptian cotton and a choice of over 40 different colours with the option to add a different colour bindings, up to three rope trips, with or without the Mattes logo. Available in Medium Large or Extra Large sizes.
Why Buy your Mattes products through Pink Equine?
There are a number of reasons why you should buy your Mattes products through Pink Equine.
You cannot purchase Mattes products direct. Mattes will only sell their products via retailers in the UK.
We are the only UK retailer that has built it's own online design software, you can design, view and purchase your item directly on our website.
When you are spending money on a bespoke product, we believe that not only is it important the fit and look is 100% correct, but that you are able to see what the final product will look like before purchase.
Although we are based in the UK, we sell Mattes products all over the world.
Mattes products match our own bridle work, allowing you to create a complete colour matched collection.
We are happy to discuss your requirements, answer any technical/design queries that you may have over the phone, via email, text or Facebook messaging.