Which is the best girth for sensitive horses?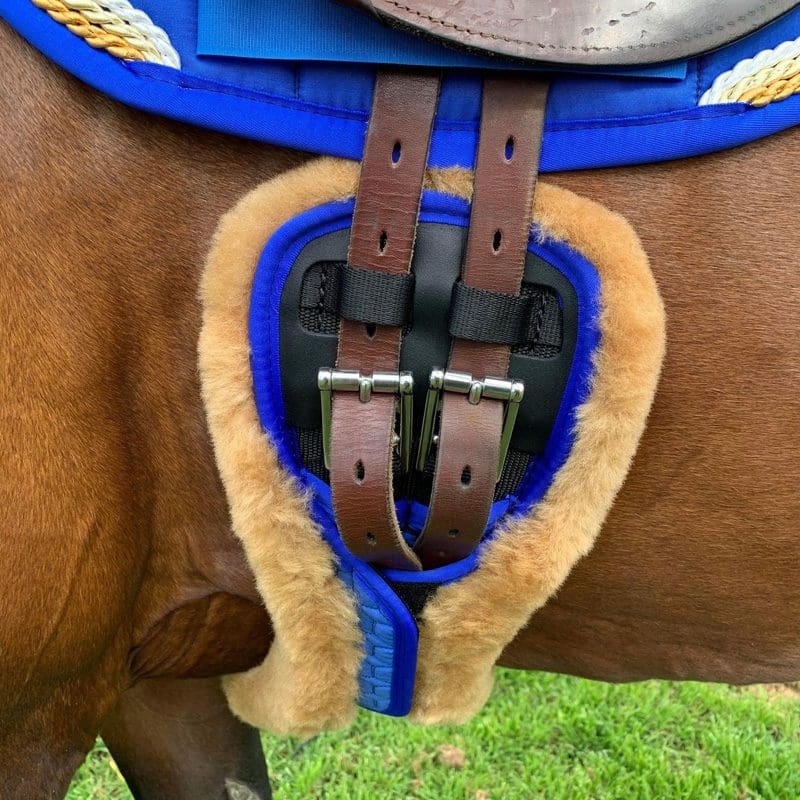 If you have a sensitive horse, then ensuring you have a horse girth that fits properly is even more crucial for their comfort, health, and performance while riding.
Introduction
Let's talk about one of the unsung heroes of horseback riding gear – the horse girth. Sure, it's not as glamorous as a shiny new saddle, saddle pad or fancy bridle, but this piece of tack plays a crucial role in keeping your horse comfortable and safe during your rides. A well-fitted girth means a happy horse and a happy horse means a happy ride for both you and your four-legged friend. On the other hand, a poorly fitted girth can lead to some real discomfort and even injuries for your horse, especially if they are particularly sensitive around the girth area and nobody wants that.
There are many types of girth designs and different categories of girth on the market, including neoprene girths, anatomical girths, leather girths, and girths made of synthetic material, but few can actually solve any or all of these issues.
Before we jump into finding what makes the best girth for sensitive horses, let's first take a moment to understand what makes a horse sensitive in the first place and what could have caused this sensitivity. It's essential to identify the issue's root cause before we can come up with effective solutions to help make our equine friends more comfortable.
What is a sensitive horse?
A sensitive horse is easily affected by various stimuli in its environment, including touch, sound, and movement. In the context of horseback riding, a sensitive horse may be easily spooked or anxious and may exhibit signs of discomfort or even pain when being tacked up or ridden. Just like some people who are ticklish in certain areas, some horses may have a naturally delicate disposition or be sensitive to touch in certain areas. However, other horses may have become sensitive due to past traumatic experiences, inadequate training, or physical discomfort.
What is Girthiness?
Girthiness, also known as cinchiness, is a term used to describe a horse's sensitivity or aversion to having its girth tightened. A girthy horse may show discomfort, agitation, or even aggression when the girth is being fastened or tightened, which can make saddling and riding difficult and unpleasant. Some girthy horses may also exhibit other signs of discomfort, such as bucking, kicking, or biting, and may require special training and handling to address the issue.
What can cause a horse to be sensitive or "girthy"?
Girthiness can be caused by a variety of factors, from poor saddle fit, ill-fitting girths, and underlying health issues, such as skin irritation or girth galls and girth sores as well as traumatic experiences or injury.
Poorly fitting saddles and girths
Given that each horse's conformation is different, it can be challenging to establish strict guidelines for correct saddle and girth placement that allows a horse's freedom of movement while ensuring the saddle is secure for the rider. However, a good rule of thumb is to position the saddle so that it does not rest on the shoulder blade, which can disrupt shoulder movement, and to ensure there is sufficient space between the girth and the horse's elbow.
Improper saddle placement is a frequent problem among riders. Placing the saddle too far forward is a common mistake that results in the girth passing directly behind the horse's elbow. The pressure from the girth in this position pinches the muscle, leading to spasms and discomfort for the horse, causing it to become "girthy" or sensitive. Poorly shaped saddle girths can also cause physical discomfort when tightened, so if your horse seems uncomfortable or resistant during the girthing process, it could be an indication that either the girth or saddle is causing them pain.
Health Issues
Certain horses may be more prone to sensitivity around the girth area due to underlying health issues, such as fungal or bacterial infections, muscle soreness, or digestive problems. These issues can lead to girth galls, girth itch, and other skin irritations, however, these are typically caused by the friction and rubbing of tack, such as saddles or girths, against the horse's skin.
Traumatic experiences
If your horse shows signs of discomfort or anxiety around the girth area, it may be due to past traumatic experiences. Horses have long memories, and if they have experienced pain or mishandling during saddling in the past, it can lead to ongoing negative reactions. Some types of trauma that may be causing your horse to act girthy include poor training where the girth straps were tightened too quickly, causing discomfort and fear. Additionally, remembered pain from a previous experience with a too-tight girth, an ill-fitting saddle, an injury, or a digestive problem can be at the forefront of your horse's memory, causing him to be fearful of the girth. In this scenario, the only solution is careful and gentle retraining your horse to accept a saddle and a girth designed for sensitive horses.
Diagnosing the specific cause of girthiness or sensitive skin in a horse is a careful process of elimination which can make finding the best girth for a girthy horse quite difficult.
What are girth galls and how are they caused?
A girth gall is a type of sore that can be caused by friction between the saddle or girth and a horse's body, particularly in areas around the girth or under the saddle. Early signs of a girth gall include raised areas of skin or hair, tenderness when touched or groomed, and pain when the girth is tightened. A horse may show signs of discomfort by trying to bite or move away. Later symptoms of a girth gall may include hair loss, raised weals, skin in the girth area rubbed raw or scabby, often in a wrinkled pattern, and weeping or open wounds.
Girths made of unsuitable materials for a particular type of horse, such as string girths on thin-skinned horses, can cause specific problems. Additionally, dirty, sweat-soaked, worn, or rough girths may also contribute to discomfort for the horse. Tightening the girth too much, especially in young horses being girthed for the first few times, can restrict freedom of movement and also cause skin sensitivity and adverse reactions. Finally, using a nylon girth for extended periods, especially on a sweaty horse, can lead to scalding of the skin.
If left untreated, these girth-related issues can become severe, and the only solution may be to rest the horse until the wounds have healed. When the horse returns to work, it is advisable to use a girth covered or padded with natural fleece or a sheepskin girth to help prevent further irritation and promote healing.
What to look for in a horse girth for sensitive horses.
The most critical aspect of a girth's shape and composition is how well it conforms to your horse's unique body structure, movements and skin.
1. For maximum comfort, your girth should ensure that pressure is evenly distributed throughout the horse's body.
2. A girth must move in synchronization with the horse, following the direction of its hair horizontally, rather than against it vertically, thereby avoiding chafing or rubbing discomfort for the horse.
3. A girth that is too narrow can create pressure points in a small area also causing discomfort for the horse.
4. A broader padded girth shaped to curve away from the elbow can significantly improve a horse's comfort level.
5. The use of real sheepskin padding (not faux fur) will further reduce the risk of inflammation, which is a leading cause of sensitive skin.
There are lots of girths on the market but taking all the above factors into account and in our experience, there is only one range of girths that has been comprehensively designed specifically with both horse and rider comfort in mind, to alleviate the issues mentioned above and that company is E. A. Mattes. Let's take a look at which girth is best to overcome which issue
The ideal girth for horses with sensitive skin or a delicate nature is the Mattes Asymmetric sheepskin girth. It is specifically crafted to accommodate a variety of English saddles, with a significant reduction in the front area to ensure ample space for the elbow and improve clearance. Horses with a less defined girth, a broader rib cage, and a less pronounced or challenging girth groove will benefit from the Asymmetric girth.

The Mattes asymmetric sheepskin girth boasts a deeper recess in the elbow region, providing additional clearance and eliminating the possibility of rubbing. Its long and short variants have internal straps that operate in tandem with the horse, evenly distributing pressure across the sternum region and the girth, making the process of girth tightening easier for the horse.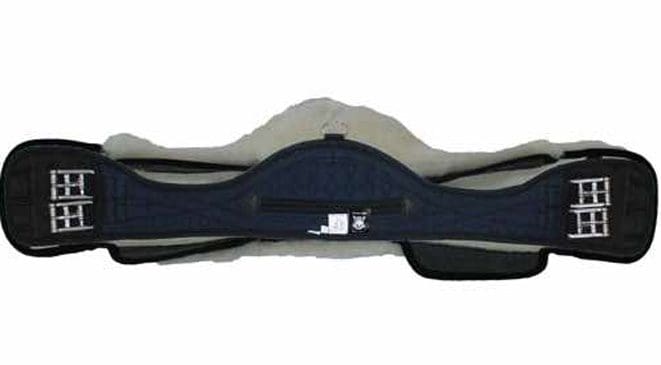 To provide additional cushioning against sensitive and delicate skin, the girth is covered in 100% Merino Lambskin. The fibres of the Merino wool are incredibly permeable, allowing air to circulate freely and regulate skin temperature, making it perfect for year-round use. Since lambskin is a natural product, it lowers the risk of skin irritations, sweat problems and rubbing, all areas that can cause your horse to be sensitive in the girth area.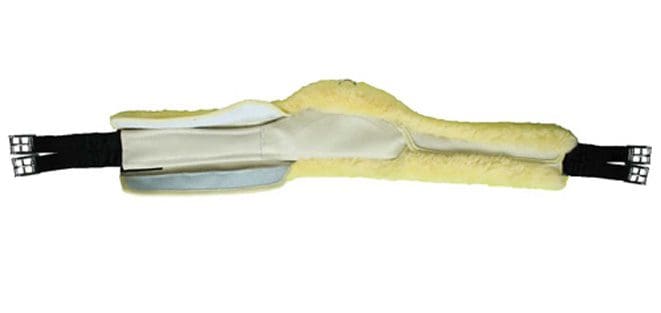 The Mattes Asymmetric girth is available in both long and short (dressage girth) versions. The long girth is available in girth Sizes: 100cm – 160cm in 5cm Increments, and the short girth is available in girth sizes 50cm – 120cm in 5cm Increments.
The Mattes crescent girth is the best girth for a horse with ulcers or girth sores and the best girth for girthy horses.

Mattes crescent-shaped girths for horses were designed to fit barrel-shaped or short-backed horses that have no appreciable girth groove but are also great for horses that have chafing, sores or ulcers in the elbow area, directly where the girth will sit. Many girths don't give enough room and tend to slip forward exacerbating any problems a horse might have around the elbow area.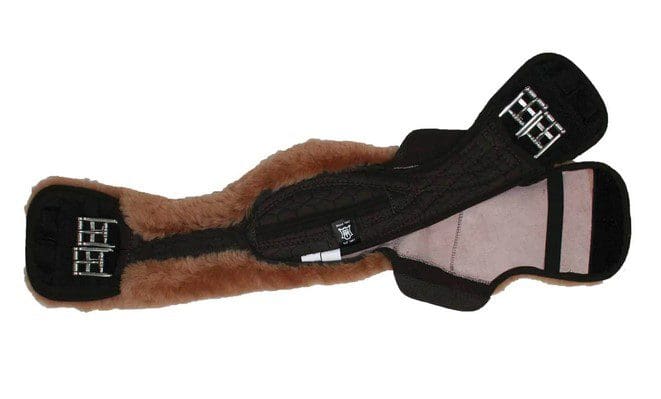 The Crescent girth is heavily cut back allowing greater elbow movement without hindrance or the possibility of chafing. The girth opens to the rear in the sides and the rear part is wider than the front so that greater bulk in the rear can be accommodated and this stops the girth from slipping and irritating any existing problems. The base of the girth is covered with a quilt fabric material padded with POLY-FLEX® and spreader inserts to optimise the distribution of pressure throughout the girth.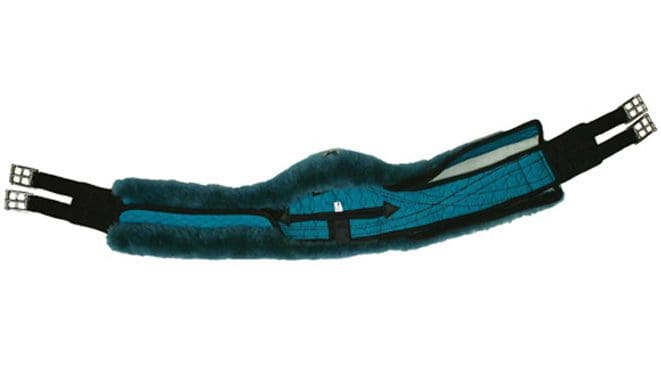 To cushion the horse and prevent further rubbing of existing sores, galls or ulcers, the girth is covered with a thick layer of padding and 100% Merino lambskin incorporating "soft-edge" trim that prevents any pressure on the edges, which helps combat sweating, by soaking up the sweat into the fibres. Being a natural substance the lambskin will not further irritate any skin issues such as ulcers, sores or girth galls. Optional elastic girth straps hold the spring-loaded stainless steel roller buckles as well as provide a little give.
The Mattes Crescent girth is also available in both long or short (dressage girth) versions. The long girth is available in girth Sizes: 100cm – 160cm in 5cm Increments, and the short girth is available in girth sizes 50cm – 120cm in 5cm Increments.
Pink Equine has been working with Mattes for many years and has sold Mattes girths to a broad range of customers, including many to help those with sensitive horses and other issues for example slipping saddles, forward girth grooves, and round or barrel-shaped horses, so feel free to browse the complete Mattes range of horse girths, or if you have a particular problem that you would like to discuss, please feel free to contact us and we will do our best to assist you.

Back to Blog