How to Measure for a bridle
The Pink Equine guide on how to measure individual parts of a bridle, to ensure you find one with the best fit.
How to Measure for a Bridle – The complete guide to bridle sizes
Most bridles are available in three sizes Pony, Cob, and Full. Some retailers also offer small-pony and Extra-Full options, however, there are no defined industry-standard measurements for each size of horse bridle. For example, European bridles tend to be a bit larger than their English counterparts and you may find that an English Full is similar in size to a European Cob Size bridle. So just because your current bridle fits a horse, there is no guarantee that a new one will also fit.
Many bridles are mass-produced and so have to provide a one size fits all approach. This is fine assuming that all horse breeds have the same conformation, which we know they don't and this can cause problems if you are unable to mix and match parts of a bridle. For example, a horse with a short face may need a cob-size bridle but if their foreheads are wide, they may need a full-size browband. A mass-produced bridle cannot solve this issue.
At Pink Equine, all of our bridles are bespoke and made to your specification, so we are more than happy to mix and match bridle parts according to your requirements. We make a wide range of different types of bridle and can accommodate most customer requirements. We also provide detailed sizing guides, so that once you know the measurements of your bridle you can easily choose the correct size.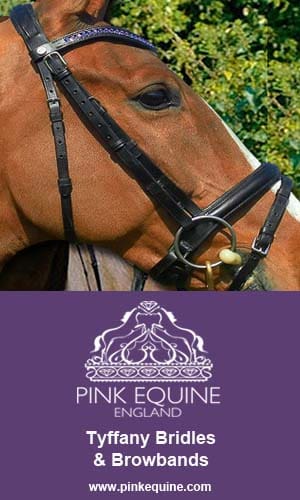 How to Measure for a Bridle
We have browsed a number of measuring guides and quite a few seem to make the process of how to measure for a bridle overly complicated. So the aim of our guide is to keep the steps as simple as possible, whilst ensuring that you end up with the right size bridle. There are four simple methods that can be used to measure a horse bridle.
Method 1. Use an existing Bridle
If you already have a bridle that fits your horse, take it apart (see our guides on the different parts of a bridle and how to put a bridle together).
Step 1.Take the headpiece with the cheek pieces attached and measure from one side to the other (marked A – B on the image below) with a soft tape measure. This is what we call our bit-to-bit measurement.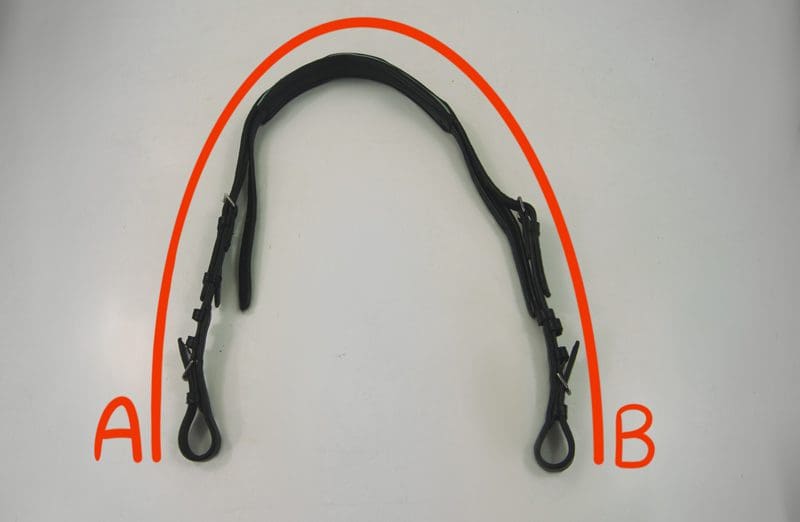 Step 2. Remove the browband and measure the inside from end to end (marked C – D on the image below).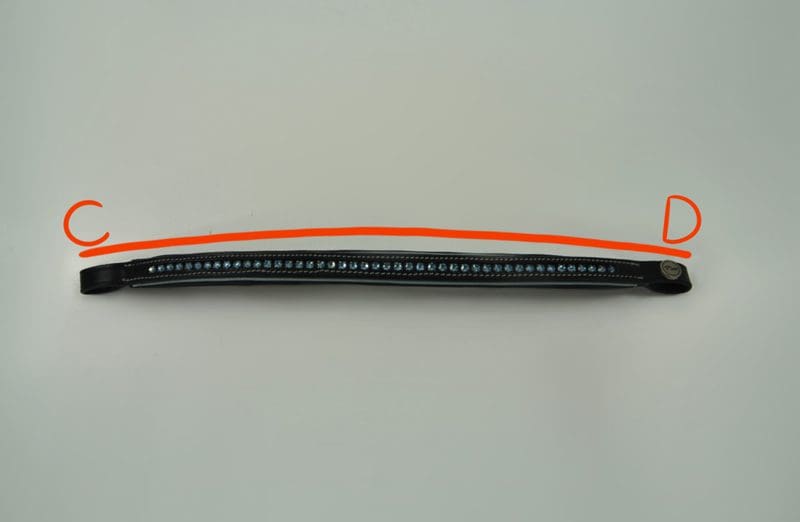 Step 3. Lay out the noseband and measure this from end to end.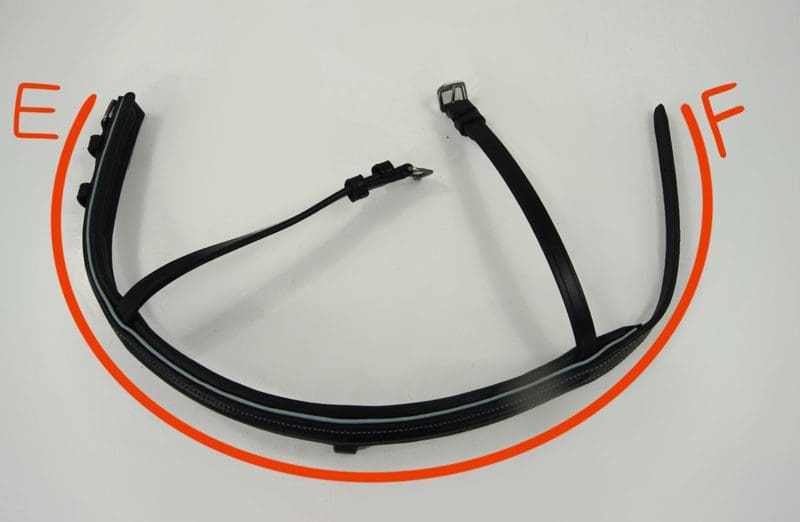 Refer to our horse bridle size chart.
You will notice that we provide the smallest and largest measurements taking into account which hole the bridle is put together on. Ideally, your measurements should fall in the middle of one of our sizes. Measurements can be taken in centimeters or inches. If your existing bridle is too tight, remember to take into account any size increases for the new bridle.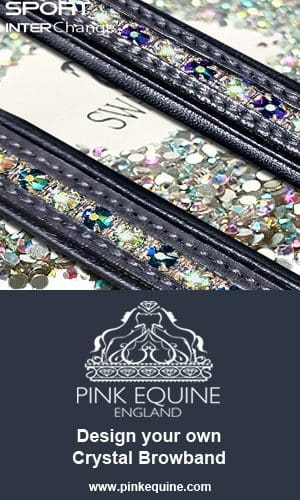 Method 2. Borrow a bridle to take measurements.
If you don't have a bridle for your horse, see if you can borrow a bridle and try it out on your horse for size. For help with fitting a bridle refer to our guides how to put a bridle on a horse and how to fit a bridle. If the bridle fits your horse, follow the same process as in Method 1. above. If a particular piece of the bridle is tight make a note to increase the measurements accordingly.
Method 3. Measure your Horse or Pony.
If you don't have an existing bridle and are unable to borrow one, you can physically measure your horse for a bridle using a sewing tape measure. There are three simple steps that you need to take.
Step 1. The Headpiece Measurement.
To find the length of the headpiece including cheekpieces, using a sewing tape measure, measure from the corner of the horse's mouth, where the bit will sit (Marked A on the images) over the poll, around the horse's ears, down to the other side of the horse's mouth (Marked B on the images).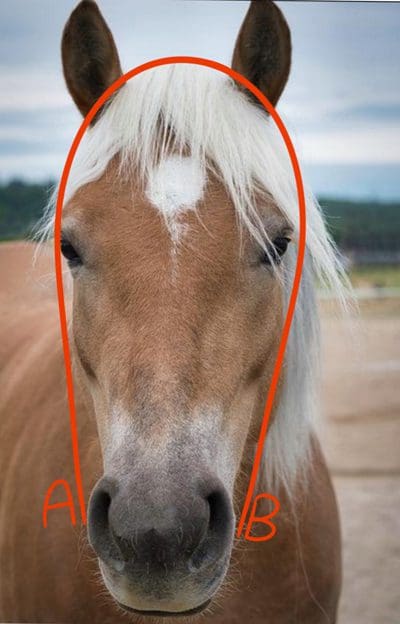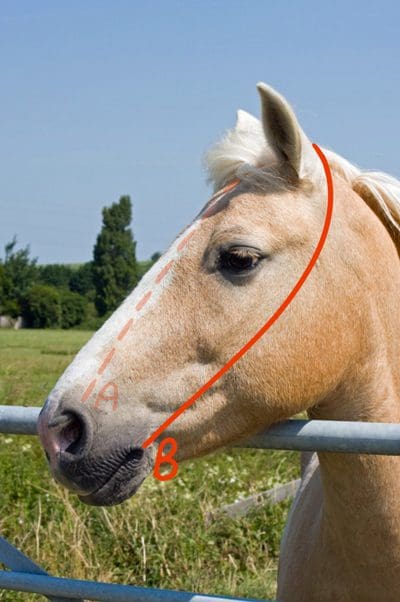 Step 2. The Browband Measurement.
To find the length of the browband measure across the forehead (Marked C – D on the images). Make sure the measurement is loose enough to fit two fingers under the tape. Ensure that the tape measure is far enough back so as not to pull the headpiece forward and thereby pinching the horse's ears.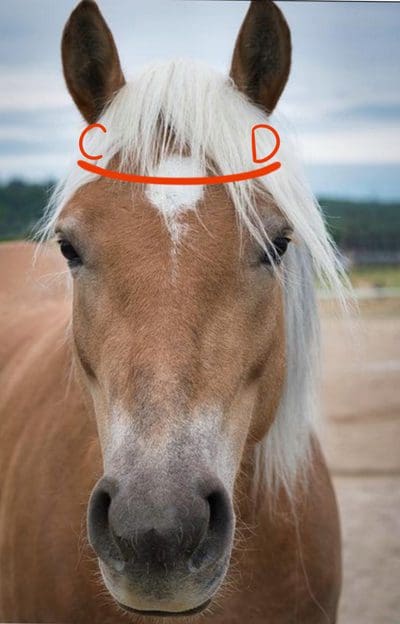 Step 3. The Noseband Measurement.
To find the length of the noseband, start a couple of fingers width (about an inch) below the cheekbones, and measure the total circumference of the muzzle (Marked E – F on the image). Make sure the measuring tape is loose enough that you can fit two fingers under the tape.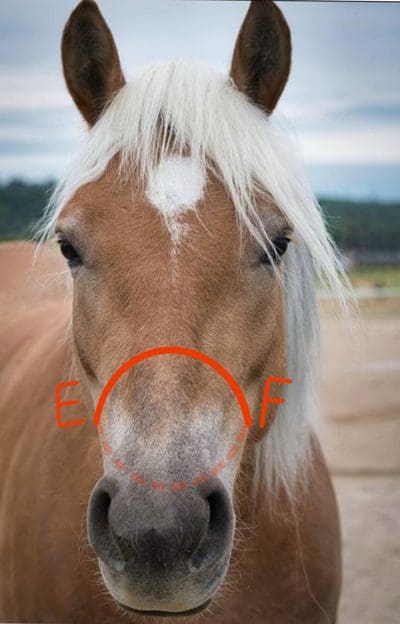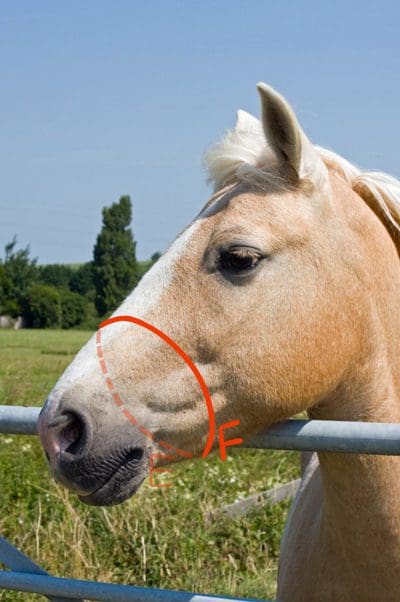 Method 4. Use an existing headcollar
Finally, if all else fails and for some reason, you are unable to measure your horse or pony, or get hold of a bridle, use the size of your horse's headcollar as a guide. It is not anywhere near as precise as the first three methods, but chances are if your horse is in a full-size headcollar you can start with a full-size bridle and work from there.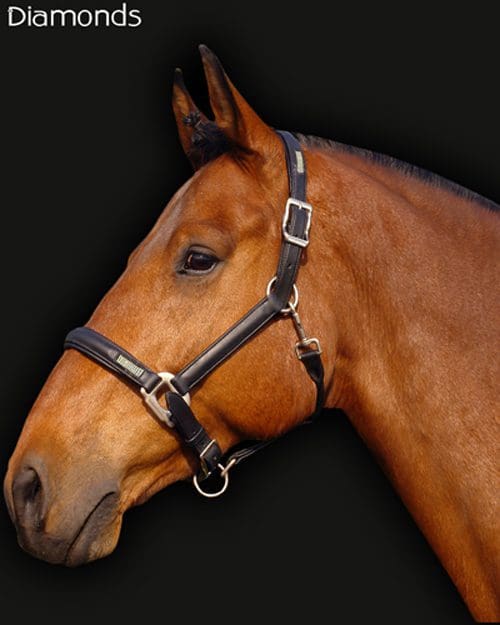 Pink Equine has a wide range of bespoke horses bridles, available in Black, Brown, or Tan leather at competitive prices. If you need a non-standard size, a mix, and match bridle, or have a special request, please do not hesitate to contact us either by phone at 01386 833050, using the contact form, or via Facebook messaging.
By joining the Pink Equine club you can save a further 10% off all normally priced horse bridles. It is free to join and membership entitles you to a newsletter, free entry into competitions, updates on our latest products as well as a range of member-only special offers. Click here to register now.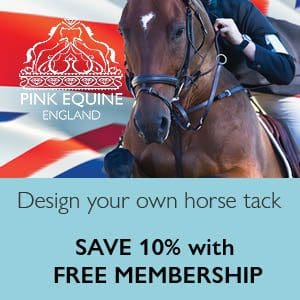 Back to Blog